(not an actual photo here but our eventual goal for the entire third floor look)
The Executive Goth Suite is the finest of the Cemetery Suites offered on the third floor.  Stretching out into actually two rooms, it boasts cozy heat, fine skulls, and a one of the original Grand Midway Hotel beds from when the building was still operating in its early 1900s hay day.  This room also offers a beautiful sky view looking out over the enchanting town of Windber.  If you want to experience the third floor spirits in a grand style, this is your room.
=============================================================
ROOM #16 RESIDENT DAMIEN YOUTH
(Damien Youth, photo by Sarah Morrison Photography)
When we first purchased the building this was musician Damien Youth's choice of bedroom.  He stayed in it for a year.  Room #16 connected to the two rooms next to it where Damien created his recording studio and summoned a year of original music.  This lead to the wonderful album Phantoms of Fables, which includes favorites like Red Ghost Mother, These Days are but Molecules, Valentine Boyfriend, and Dead Relative.
Damien also created much his album Onanisms at this time, recording the endlessly creepy spoken word piece Charles Earnst one night right in this room.  "Charles Earnest, born August 24, 1925, I owe you one human head…"  I can remember that very evening Damien called me up into his room to listen to the new work.  His recording studio at that time had rich colored lights.  It was very cozy with a circular kerosene heat flame flickering beneath us.  There were stacks of thousands of vinyl record albums and a twenty-four seven active turn table.  Damien touched play on his equipment and this is what crept out from the speakers (forever the theme song after that moment to this room):
http://www.youtube.com/watch?v=okn8aM2RXh0
Some reviews of Damien's recording read:
"A mysterious cassette-only artist who began putting out material on tape in the late 1980s, although some of it started to appear on CD in the late 1990s. His music is haunting, acoustic rock with a sense of British whimsy akin to Robyn Hitchcock or Donovan (although, as his tapes were distributed from Louisiana, it's uncertain whether the singer is British). It's solid, melodic stuff that would most likely appeal to Hitchcock fans, despite the sparse production. His Bride of the Asylum CD of 1998 put some of his work into slightly larger circulation, in better fidelity."  -Richie Unterberger, All Music Guide
"Probably bound to pass unnoticed, even on an underground cult level, because of its limited distribution and lo-fi packaging, it's another notch in Damien Youth's bid to become one of the first belatedly discovered cult artists of the 21st century." -from Westcoast writer Ritchie Unterberger on Damien's Sunfield album.
Hex Files: The Goth Bible, by Mick Mercer, 1997, championing thousands of bands the world over, on page 166 points the Moon's spotlight from England on our very own: "DAMIEN YOUTH -And here he is, the real star of the book right at the end of it all. Edgar Allen Poe just picked up a guitar… …I've virtually glued his tapes into my Walkman since i received them and you'll do the same, as both will hang you up by your ribcage on a little hook, where you can froth and writhe about in stark amazement at just what emerges. Nobody does it better, but then again, nobody does it like him. Nobody!"
=============================================================
ROOM #16 RESIDENT GEORGE SPORAY
For a brief season carpenter George Sporay, who created the third floor Crown Chakra Ceiling, maintained this room.  It was full of his tools from floor to ceiling.  George helped shape many of the new structural highlights in the hotel, like the Juliet Balcony used for our Shakespeare play.
=============================================================
ROOM #16 RESIDENT ADAM BLAI (AND HIS LIGHT PAINTINGS)
Later, Catholic demonologist tv celebrity Adam Blai lived in Room #16 as his bedroom and workspace for several years, soaking it and just about everything else in the building in protective holy water.   Adam appeared in the first episode of A&E's show Paranormal State, which coincidentally the producers requested if they could film here to explore the Grand Midway Hotel.  After shooting some initial interviews here that potential investigation portrayal quickly fell apart as they needed home owners who appeared "more scared" to make the show more compelling and come out of the gate with more of a bang.   But not long after Adam was brought to the hotel by good friend and model Sarah Ireland and he moved in.  He played video games in his room non-stop.  He also developed a cable tv show.  You can see Adam in his new fear-based cable show The Exorcist Files using this room and the hotel as his Batcave as he discusses troubled people out there wrestling with supposed demonic infestation as he departs from the hotel to go out into the world to help re-align those suffering back to health.  The Exorcist Files became instantly controversial.  Even the Vatican publicly reacted, commenting on Adam's show in the media.   You can read more about Adam's conservative Roman Catholic religious demonology  at his web page:    http://www.religiousdemonology.com/
Adam also was a photographer, cultivating his skills in what some photographers call "Light Paintings", photos taken in the total darkness and images illuminated by flashlights and lasers, etc.  He photographed hundreds of hotel guests in this room over the years…
(Andrew Turnmen, light painting)
(Jim Donavan, light painting)
(Sarah Ireland, light painting)
(David J, light painting)
=======================================================================
Adam Blai took over room #16 on the third floor, Damian Youth's old room. Adam commissioned the painter Honore Childs Young to paint the door with Saint Michael with sword over the dragon. Honore is old friends with the sculptor George Turner from back in their earlier school days in Georgia. George created his beauty statue on the third floor here in the hotel. Anyway, so on Adam's request, Honore came out to PA and spent time at his place, painting the door there while he recorded the 'making of'.  When the door was finished it was brought back here and put back into place. I had a light put in above it. As one reaches the top of the stairs Honore's work leaps out. 4 AM or middle of the day the painting on this door is a striking, powerful, beautiful Grand Midway Hotel tour highlight.
THE SAINT MICHAEL AND THE DRAGON DOOR
"I commissioned my friend Honore to paint the door to my room on the third floor of the hotel. Honore is a graduate of Savannah College of Art & Design. The painting on the third floor is an interpretation of a painting by Raphael: St. Michael. c.1503-1504. Oil on panel. Louvre, Paris, France. I asked for one change in the painting:  that the eyes of Saint Michael and Devil are turned toward the viewer, as opposed to at each other in the original.  This painting is a reminder that Good wins over evil and that when the time comes the will of God will not be stopped. Hopefully it is also a challenge and encouragement to those that encounter the door to resist and defeat the evil in themselves, as well as around them.  I don't think you need to be Christian to 'get' the door; the image is strong and should be easily understood by anyone. It is not intended to judge other faiths or belief systems, only to serve as a reminder about Good and evil, two topics I think we all understand, regardless of faith."  -Adam Blai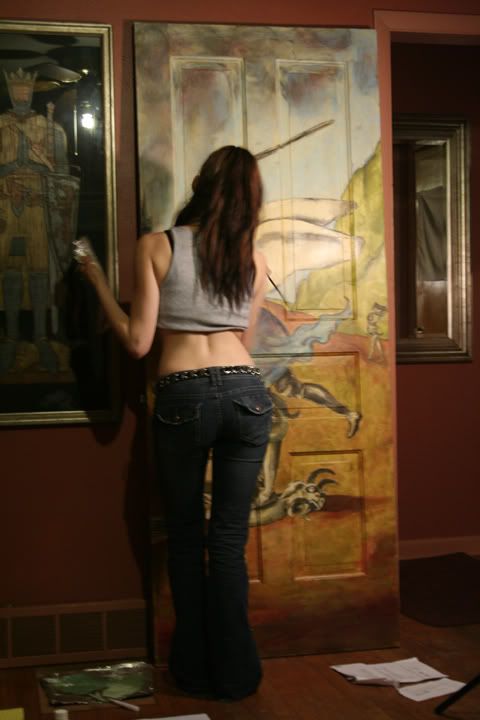 THE STORY OF THE DOOR -by Honore Childs Young
I will start by saying this was a deeply personal and life-changing undertaking for me. Everything about this piece was unusual from the beginning. Agreeing to take a commission of a religious nature was not only a first for me, but well outside of my comfort zone. To this day I can't say what drove me toward working on the door, only that I was indeed driven by a force not my own. Just as unusual was Adam's decision to have it painted by me. He knew pious painters, even a priest, whose portfolio's reflected similar subject matters; and yet he too was strangely drawn to ask a morally wayward artist to paint the door. And so began the far from standard process…
It was before the first brush stroke when I knew I was not alone working on it. As early as the preliminary test stages, when color swatches are worked and eye focus is established, I found myself working in a room that would suddenly flood with light, as simultaneously a computer's music, set to random, would jump to a piece called "Song of the Seraphim". At the time I found it interesting and nothing more, and continued running the tests as I had any other piece in the past with a paintbrush in one hand, both a bottle and a joint in the other, and no pants on to speak of.
Inspired and "ready" (later I would learn that nothing could have made me truly ready…) I drove eight hours from New Hampshire to State College, PA to meet up with Adam and go steal a door from this legendary hotel and it's visionary owner I had heard so much about. In the dead of winter we found the hotel dark and without its ringmaster, so breaking in with, scout's honor, a religious saint card, we went upstairs, unhinged the third-floor door and drove off truly like thieves in the night. We unstrapped the awkward traveler from the roof of the car and brought it into the heat of Adam's house; where it would stay for the better part of the next three weeks undergoing the plastic surgery of dozens of layers of acrylic paint.
On the first day I set up the room with pictures of St. Michael, various color swatches and reference materials collected for the project. Some stood alone and some were rife with post-it notes of reminders and ideas. Among the walls of taped-up paperwork was the prayer to St. Michael, which I had by some invisible force decided to say out-loud as I painted each layer. The studio set, I filled a bucket with hot, soapy water and scrubbed off lifetimes of fingerprints over varnish over memories caught in dirt; and of it, the door held three buckets of brown. Clean and smooth and asking for a new story, I laid the many layers of priming gesso on the surface of the door and then called it a night. When I went into the room the next morning I found one of my pieces of reference had fallen down and into the third bucket of muck-water I neglected to dump. I pulled the paper out of the water and miraculously all the post-it notes on it managed to remain adhered during their night in the bucket, save one. A post-it I had written myself another day weeks prior spun around and around by itself and read, "don't smoke today you have too much to do!" What a funny note I had myself, and thought nothing more of it. Later that day, deciding I had made reasonable progress, it was time for a good healthy weed break, but despite having had several lighters with me the day before and no one else in the house who used them, all were missing. No lighters, no matches, there would be no smoking that day.
The next day rolled around and I was determined to smoke and listen to killer tunes while painting. I found a lighter to smoke with, where I had looked a thousand times the day before, and although I keep my smoking implements impeccably clean, my pipe would not take in air?! Pissed, I put in the grittiest music I could find and decided to be satisfied grinding my still pant less hips to the beat while painting…in front of the open-curtain windows. Well, no. The disk skipped unbearably. Every. Disk. I. Tried. Skipped. The same CDs that deliciously detailed sex and mischief in their lyrics and rhythms, I had listened to days before without problem. And now in the same player, they were as useless as trying to play peanut butter. Of all the CDs one would bring to keep them rolling on a project, only one would play that day: Gregorian monk chants. Severely annoyed and sensing a pattern, I moved on and kept painting to make up for the time spent losing the battle of "what type of debauchery?"
A couple days later I came to the point where all paintings arrive eventually but never permanently, awkward adolescence. Every stroke made the door the ugliest piece of crap ever and compiling frustration was quickly leading to rage. It seemed to me that smoking a little pot was no longer a luxury of the wayward, but a necessity of the fiercely agitated. It was cold that day so I went to the window to smoke instead of out the door. I pushed it open and grabbed the lighter and pipe off the table in front of me. With my left hand in the window frame I flicked my Bic, and no sooner then I had, the window came slamming down onto the palm of my hand. It was a new window with well-working catches and gaskets and I cannot stress enough how much force this window hit me with. I couldn't feel or move my fingers. Oh, I was cursing now. Taking turns between holding my hand in pain and throwing things at the air, I yelled at the angels who, at this point, I knew where responsible, "WHY THE F*CK DID YOU PICK ME TO PAINT THIS?! IF YOU DIDN'T WANT SOMEONE WHO GETS F*CKED UP AND LISTENS TO DIRTY MUSIC IN THEIR PANTIES TO PAINT THIS, THAN WHY DID YOU CHOOSE SOMEONE WHO YOU KNOW DOES THAT SHIT?! YOU COULD HAVE HAD SOMEONE GOOD DO IT!! IF YOU WANTED A F*CKING A SAINT TO PAINT IT, YOU SHOULD HAVE GOTTEN A F*CKING SAINT TO PAINT IT!!!" Irate doesn't begin to cover it. I was done painting for the day.
And here's where all the faith in the world can't prepare one for knowing as fact that they exist…my dream that night. The dream did not belong to my mind; I know what my dreams look like and this one was put there by an outside force. There aren't words I know of, or even that exist to us, that explain what it looked like. The best way I can describe it is as a spiral. If there were a piece of information along each portion of a spiral, when one looked at it, one would have all the information available to them simultaneously. It was like that, but terrifying because I was being fed the information by a force too intense and different from me to understand. You don't sleep through something like that. I woke up and the angel was still over me and out of pure fear I didn't move a muscle. This was not a warm and fuzzy angel with happy glow-robes or hair made of golden love-tendrils. This was a soldier and I was being held at spiritual gunpoint. That night I was shown the door, it's job, it's future, the people connected to it; and in that was the answer to my "why a sinner?!" fits of the day before.
I was told that the door was about defeating the devil. For it to carry that message with conviction, one of the things that had to happen was that transformation. Someone had to defeat his or her demons while painting the piece. The painter couldn't be a saint, because they had to cease being a sinner. And while I am still no saint, I can say without hesitation that my life changed that night.
Once I understood what I was being asked to work on, every layer of paint and it's accompanying prayer made the strength coming from within the door more palpable. When I was three quarters of the way through, it was almost too much; I feared my own painting. But truly it was not fear, it was respect and it was not my painting, I was merely a transforming marionette. I think it was the eyes of St. Michael that made it intimidating to work on. Once they were painted I had to fight to keep myself from covering them. Every move I made his eyes followed, always maintaining contact, always challenging me to make a better choice. He fights the devil and that is his battle; but as he looks at us he forces us to recognize that we too are part of this battle. And as he conquers the devil, so too must we conquer our own demons.
For writers, musicians and artists this is a particularly thorny task to ask of us. Our demons are what got a lot of us involved in the arts and with the arts came more demons. With the gifts of talent or observation often come the struggle of pain and confusion and with those come a need to escape or stupefy the madness. I am still very much working toward the goal, but have come to realize that confronting them and making the effort to move beyond their grasp has not left me without crutch but rather has freed me to spend more time exploring and expanding and celebrating the skills I've been given and have studied. I don't pretend that its influence will be the same for everybody but if it makes us question our choices toward a better way even once, it is a start. That is the challenge that the door holds over us.
-Honore Childs Young & Adam Blai
==========================================================================
After Adam Blai left the hotel to move to Pittsburgh to work full time with priests and tv shows combating demons, his old room sat eerily empty for several months, with just his marker bible quotes on the walls…
==================================================================
STATIONED NEAR THE GATEWAY OF PLEASURE 2
The line "Stationed near the Gateway of Pleasure" was later used as an inspired title for two other hotel artist's works.  It was used for a short title story by visiting science fiction writer Jim Lee (see below):
=========================================================================
STATIONED NEAR THE GATEWAY OF PLEASURE 3
"Stationed at the Gateway of Pleasure" is also being used by Margaret Bashaar for her upcoming chapbook of poetry (which she expanded from her earlier work entitled "Letters from Room 27 of the Grand Midway Hotel")  after spending a good deal of time being photographed by Adam in this room as well.
==========================================================================
ROOM #16 RESIDENT JOE BOB SMITH
Joe Bob Smith moved into the Executive Goth Suite for the Summer of Magic! (as we called it).  Here he was in his swank new room, ready for the ladies, singing, "Nothing says love like a ukulele."
For years Joe Bob Smith slept in his car when visiting the hotel because of little kid ghosts that bothered him. He is not the only guest who has mentioned little kid ghosts.  There are a lot of instances.  (See the hotel basement link for child ghost stories.)
Job Bob Smith, a regular visiting filmmaker, cannot get a decent night sleep in the Grand Midway Hotel.  He is a ghost magnet.  So for years before he moved in, he slept the nights in his car in the park.
========================================================================
ROOM #16 RESIDENT CHEF THOM