KEROUACFEST (I'm not hosting the Kerouacfest this year as I am too swamped out on the road with the film campaign…but perhaps we'll do another one next year. I'll miss it!) For anyone else asking what it was, Kerouacfest was a purpose-driven event. American author Jack Kerouac in his Rules for Writers stated, "Be in love with your life." That's important. It is also important to encourage this in others, to be in love with their life. You are radiant by bringing radiance out in others. For artists, the realities of a consumer market often take us out of the space that our work is a gift and can be seen as sacred. For over a decade the Midway hosted an annual private event called Kerouacfest. It was not simply a big party. It defined itself as "For artists by artists". You had to be invited and to attend you had to participate. For four days we hosted a private gathering where artists were invited to step away from the usual trials of always having to see ones work as merely a financial commodity competing in a heirarchy against other performers, and instead enjoy and share their creation process as well as recieve the creation process of about a hundred other artists in a kind of intense shangri la community escape weekend of encouraging kindred souls all offering their inspirations, passions, and works as a sacred gift into the communion. Everyone was asked to bring something to add into the mix. Not everyone got it. But for the ones who did it was pretty magical. Sometimes people were brought to tears. Not everyone tells you to see your life as a beautiful canvas and to be in love with it, but we do.
=========================================================================
Last year we held our tenth Anniversary of Keroucfest.  Here are some highlights:
KEROUAC FEST (named after author Jack Kerouac) Once a year old friends of the hotel gather for a private weekend together. Here Sarah Ireland explores absinthe and martinis. 6 Am still awake…
KEROUACFEST ART. Our private event Kerouacfest is modeled after a pot luck. It is an event for and by artists only. It champions the creation process shared in a big communion. No hierarchy. No money exchanged. Everyone adds something to the mix for the group experience. This year we have a guest list of about 80 people, which means 80 offerings of art, music, teaching mini-classes, etc etc. It is a pretty unique experience lasting about four days. Chef Anthony Coco created this work of art! This was just one of the fantastic offerings creating our lunch today. It followed taxidermy mice class and German cabaret class.
KEROUACFEST MEMORIES   Thank you to all the eighty-some folks who participated in this year's Grand Midway Hotel 10th anniversary Kerouacfest, a private celebration of artists over a sweeping five days. Weeks later I still have all these strange, choppy, marvelous little recollections of absurd and wonderful moments through the course of that week. (Like, we grew a lawn in the middle of all this! Summoning Walt Whitman's leaves of grass among the hundreds of other magical artistic moments, one morning we came outside and found ourselves jumping around like little kids, hooting, "Ooo boy! We got grass coming it! Look! Little green hairs! Weeeeee!" It was so enchanting!) (Like, I recall maybe Friday night around 3 AM saying to actor Kevin Bean something like, "No! Nobody can eat any brownies until we first go to physics class!" Then we all sat down in the second floor hall and learned about physics and the paranormal for an hour from researcher Michael Meechan.) (Like, the last guest to finally leave after this rich endearing week we'd just given ourselves was Sarah Ireland, and Mark 'the magician' Swindler watched her drive away from the porch as she headed back to New Orleans, and then he said, "Well, now I'm sad," and the night sky instantly starting raining.) Photo by Jonathan Timko.
=========================================================================
Earlier Kerouacfests…
 (John Cassady in the Beat Room)
THE BEAT ROOM (or Hotel Front Lobby)
This room was decorated with old black and white posters from the 1950 American Beat Writers, among them Jack Kerouac, Allen Ginsberg, William Burroughs, John Clellon Holmes, David Amram, Lawrence Ferlinghetti, Baird Bryant, and Neal Cassady. The welcoming theme of this room extended all year, and many an artist had come and visited to sit all hours and share coffee and cross paths with others traveling artists.
THE KEROUACFESTS
Once a year, the Beat Room theme overtakes the entire hotel.  We hold an annual event where the entire hotel is "Beat Themed." Named in honor of writer Jack Kerouac, Kerouac Fest was originally conceived to be a weekend get-away warm-set-of-palms one could step into with fellow artists. A party for artists -by artists. We were recalling a story about the night Kerouac read his just-written new poem Sea to several of his visiting poet friends out at Big Sur, and how their evening together sounded so beautifully supportive. And our event just grew out of using their evening as a model.  It has been kind of funny trying to describe Kerouac Fest to others that haven't been to one yet. I usually say, "You leave your phones at the door, and submerse yourself with other artists for three or four days. Everyone brings something. Its free."  The main word I hear others use when describing their experience is that it was a "reminder".
===========================================================================
I have been fortunate enough to have been in attendance at all three Kerouac Fests. The first year ('03) I was one of the youngest amongst the crowd and was nervous about how the age difference would play out. What I found was acceptance on every level. People were as willing to listen to my stories as they were to tell me their own.  The following year ('04) I was very excited to see people that I had met the previous year and also to meet new, interesting people and I was not let down.  Kerouac Fest '05 was much the same, except that now these little get togethers are starting to feel more like gatherings of close friends and family, rather than a gathering of strangers who have just met one another.  I think that one of the best parts of Kerouac Fest is the fact that Blair opens his home to so many people, some that he knows and some that he's just met, all coming together to celebrate the Beats, art, and each other. Staying together in a crowded hotel makes it hard for you not to come across a kindred soul. So, by the end of the weekend you have a sense of being a part of something. Whether you've shared your talents with the group, read from the "On the Road" scroll, or just sat back and absorbed everything, you realize that you've just experienced a truly amazing event. I am no doubt looking forward to Kerouac Fest '06 and all the excitement and new faces that it will bring.
– Ally Carter
===========================================================================
For me the Kerouacfest represents a new path in life for me. After 25 years and a small heart attack I'm leaving a career in laboratory medicine to pursue my real passion, beat lifestyle, art , video and film. I first learned of the festival back in 'O4 from the internet and just had to go to be around like minded people. I was expecting a bunch of "kids", but what I found was beat legends, like David Amram and Baird Byrant, as well as the sons of legends in John Cassady. I felt at home , like I had known all these people all my life. It was such a rush to hear people refer to me as a filmmaker. It was like these folks were affirming my decision to change careers. This feeling was so beat. Just like the original artist from the past helping, encouraging and supporting one another in their works.  Its hard to explain, but the festival allows us to exchange ideas and creativity, as well as honor Jack Kerouac who I believe would be very proud of this festival. For four days you are swept away from the crazy outside world. Blair Murphy opens his home , the beat hotel up to all and we live as one big family engaging our minds as well as just having a kick ass good party time.  I returned in 05, this time not as a stranger, but a friend and fellow beat. Working with Blair on his film Coolsville has been a wonderful experience for me. The festival continues to grow and embrace all artists and like minded folks who are beat fans. Academics brought a new look to the festival in 05 each sharing their knowledge on the beats and how their lives are being continued in each of us. A great poetry jazz session held Saturday night was the most intense creative passion filled reading i have videotaped to date. It was surreal in a way and for a moment you thought you were transported back to 1955 Greenwich Village. I cant wait for Kerouac fest 06 !
– Cool Hand Jaemi
=========================================================================
Happy Samhain to you all! Many thanks Blair for the morning paper and of course, the sunglasses. Things are settling down now for me with the dying of the year. A brilliant sad room for intense joy to inhabit. A time to reap the smoldering remains of summer. I want to thank you, Aimee and the Grand Midway itself. Three exceedingly gracious hosts. Very sorry I was unable to make the trip for the post-Halloween party. It is criminal to be tied to a stone and have a bird peck out your liver. Want to spend some time with you in the future, with ideas of evolution, in a less hectic environ, hopefully in time for next year. Kerouac Fest came (as fated do), at a very weighted time for me. It served as a reminder to all exiles. To work at dissolution your whole life, for what? To get down to the elemental, for what? My brief stay at the Grand Midway provoked those questions in me again, while simultaneously providing the answer: to burn, to lust singularly with delicate and ineffable precision, the veil lifted from the tribe living and the tribe dead, the eyes watching, the ears hearing, the child pointing at the moon… an every-one-opened. I await the news-
-skot jones
============================================================================
The Kerouac Fest was the best weekend of my year. It was such a gift we all gave to each other. To share time, words, our selves. To share our art…from the book given to me by its writer to the music played with a smile to the sparks of energy given and received.  There was a moment in the heart of the weekend, in the California room I think, talking with Ed and reflecting on the feeling of "being in the middle of something". The weekend had its own story, like a play. It was alive. I realized at that moment that time had lost its external reference. We were floating in a bubble where we were just all happening. No external reference to clocks, phones, the world. It freed me to just relax and converse, create, listen… The Kerouac fest helped me appreciate other forms of art in a more personal way than was possible before. I saw the hearts of other people coming through.  There was a lot of positive energy at the party. I deeply appreciate all the kind things that people said and did in reaction to the art I shared. That encouragement means a lot to me. So many supportive and positive interactions…thank you.  I'm really happy to learn that a few people have taken what I shared at the fest and run with it, experimenting and being energized. I know that I learned and grew and have run with the energy others gave to me.  My hope is that the friendships and relationships started at the Kerouac Fest continue and grow this year and we all get a chance to hang out again. Sorry if this is a sappy post but the weekend really did mean a lot to me and the people were just wonderful to connect with.  Thank you Blair!
-Adam Blai
=========================================================================
Blair, I dont know if I have shown you www.realitystudio.org. It is a William Burroughs website that ask me to contribute a collector's view of Burroughs and the Beat Generation. I have been posting for the past month or so. There is quite a little bit of content there now. It is a bit geeky as far as the collecting goes but it provides details and images on little known Burroughs stuff. Check it out.   Oliver Harris, a Burroughs scholar who I think is very good, asked me to contribute a collector's view of Naked Lunch for the 50th Anniversary of Naked Lunch essay collection he is editing. I think I was a last minute addition but I feel honored to be asked. Now comes the writing. I cant tell you enough how much Kerouac Fest and all the people involved with it have inspired me to push forward with my passion for book collecting and Burroughs and to get out in the public with my writing.  Thanks,
-Jed Birmingham
===========================================================================
The first festival we stood around for awhile not knowing what to say, yet everything was already in place. Uncomfortable perfection achieved by will and determination and a FOCUS. Strangers began to belt after booze broke the barriers. Cats got down, came from all over. We watched them file in, 'where you from?' and 'no shit, that far?'. It was a graduation party picnic for Jacky-Boy (et al), complete with burgers and beers and whisky. To be honest I'll have to watch Coolsville to remember the first year, I forget much of the event. I was all in, elbow deep to help and get the job done, left to my own selfish devices I devised a plan in which I could stay blasted for three days, and did, a toot of such proportion would certainly pay respects to those holy, toxic figures.  Baird Bryant, the guest of honor year one, pretty much made the event for me. This cat has seen a lot, some jarring shit, check out his recount of the Beat Hotel days, brilliant. He happened to be part of events that are recognized as some of the most important in Art/Pop Culture history and he wears no bullshit. He is a modest cat, and a sharp mother to boot.   The reading of OTR was emotional to say the least, by the end everybody's collective throat got lumped into reeling emotion and near teary breakdowns. I thought I was going to break off and have a seizure of some sort, I couldn't control the involuntary shakes of my legs, I wanted to cry forever, cry for sadness AND beauty. It was so damned profound. After the fact I may have wrote it off as too much drink and smoke, but so many others to this day recount the episode with the same clarity, intensity, emotion.  Each year it's something different, but I won't make it easy on you by spinning a bunch of yarns, you'll have to come and experience your own experience yourself. Get Ye to Windber, Come Roll Your Bones and Moan Alone Together.
-JohnnyBoy Squib
============================================================================
"Teach what you would learn."
That is the theme behind Kerouac Fest. It is a quote from the book Course in Miracles attributed to Christ. I'm in the Arts and I missed a sense of communion. Thus these events which have provided that, not to mention having also been fun, perpetuate that. So that line is kind of all over Coolsville too, as well as how this ship gets steered. I hope it is the mustard seed that cracks open the mind's of my fellow artists and recreates the world.
"Teach what you would learn."
– Blair Murphy
===========================================================================
Back in the days of yore, also known as sophomore year of high school, I joined the local writers club in Somerset. During one of our weekly meetings, the head of the group brought in information about something called "Kerouac Fest" in the town of Windber, a place I had only know of because of the Arcadia Theater. I became highly interesting in attending this festival…I couldn't believe that something so cool was going on in the heart of Somerset County. However, I was denied the trip because I was too young. For years I had tried to remember where and when that festival took place…perhaps I could somehow sneak out and join the modern beatniks?  Fast forward to late May of 2007, when a dashing young Todd Holsopple called my phone and asked if I would accompany him to the Kerouac Festival of '07. I was beyond enthralled that I was finally able to attend a celebration of one of my favorite authors, and even more, it was in a haunted hotel. How could I ask for more?  I was so impressed by the festival…not only was it fascinating and new, but it was also the spot of my first date with who I now accept as my soul mate. I have a lot of emotional ties to Kerouac Fest, as well as the Midway itself. Since being away at college, I have craved the creative and artistic atmosphere of the Midway…I've yearned for an outlet to get all of my aesthetic
-Berkeley
===========================================================================
Fellow beats, I wanted to tell about one of the more surreal moments while staying in the beat hotel during Kerouac Fest '05. I was in the Jaemi Elia suite, (love how Blair names the rooms for his guests), and I was rooming with my long and dear friend Lisa Matthews from Colorado. It was around 4 in the morning and nature called. When I was coming back to the room I noticed a light from the room down the hall. In the room was John Cassady holding court with a bunch of starry eyed guests. It was magical how he held them in a trance as he relayed his stories. I thought my god johnny you are king of the beats. Since early in the day he had been talking with anybody who showed interest in his Dad and Kerouac. He had gone to bed, then got up and still found people wondering around the hotel who wanted to be graced with his presence. He is so kind and friendly and open to all. His dad Neal lives on through him. I am sure those folks will have that memory of the late night chat with them for ever. I do too if only as an observer to the Cassady mystique.
I have many stories from the fest. I will post the most poignant memory I had there soon and a few others through out the summer leading up to the fest, and then I will have more to tell as we sit around the beat hotel bar sipping our wine. Just a hint— it took place as Blair Murphy, myself, beat legend David Amram and son of legend John Cassady all in the same car took a rode trip to a hot dog place 1 o-clock in the morning.
It had been an already super day. I had interviewed beat legends and enthusiasts for hours. I had shot some super cool stuff. David Amram wanted to go to Coney Island in Johnstown for some late night hotdogs. I dont know how it happened, but I ended up in the same car with him. John Cassady in the front seat. Amram driving and Blair Murphy and I in the back seat cameras in hand rolling. It was cold and dark, around 1 in the morning. The city was asleep. Even inside the car in the backseat it was dark . It seemed that Blair and I were in Shadow. I immediately felt as if I was having an out-of-body experience being transported back to Kerouac's 1950's on the road. Here In the front seat were a living legend who is the living embodiment of Kerouac and Neal Cassady's son who has Neal's spirit. They were chatting and laughing and talking of the famous and infamous. Blair and I were like two little kids waking up on Christmas morning running down to see presents under the tree. We kept looking at each other with big smiles on our faces not believing what we were witnessing.
As the car slowly manuvered its way through the night streets of Johnstown, I realized we were watching a living reinactment of Jack and Neal's travels on the road. We arrived and all poured out of the cars going from the dead silence of the Johnstown night into a burst of light and Life at the Coney Island hotdog cafe. The night zombies with their eyes dazed from the greasy yet delicious frankfurters sitting all about. I did not partake of the food thinking one heart attack was enough in my life. In a booth Cassady and Amram went into an impromptu scat each throwing out their rhyme for us all to enjoy. Again I went back in time to the famous photo of the cast from the beat movie "Pull my daisy" Amram and Kerouac included sitting around laughing in a cafe diner booth. Amram made a similar face gesture just like in that old photo and I Immediately was inspired to capture this on tape and mix the two with led to other past/ present dissolving images for my short film which I showed at Kerouac '05. Amram further honored me with his agreement to read the last paragraph of "On the road " back at the hotel , which I interspliced to Kerouac reading same passage from the Steve Allen show to end my film.
I have the most wonderful memories of the beat hotel and all the great folks I have met there. I feel becoming a part of the beat scene there was the solidifying factor in my affirmation of my new outlook and direction in life. From the moment you arrive to the second you leave, you will be thrown into complete cool. You will make friends and actually feel as if you have known these folks all your life. Like the past beats and the ones today who follow in works and spirt, creativity is our life force, knowledge our power and love and friendship our foundation. You will find all of these at the kerouac fest in the Grand Midway Hotel in Windber. As the legendary beat David Amram said, ( I met and interviewed him at the beat hotel in '04) "We share , we care we give of each others time, creativity and experience and we all grow from this time together" If you need a boost, or a reminder of why you are an artist, or just an life enthusiast, then come to Windber in September. Looking forward to seeing all of my friends and the hope of making some more.
-James 'cool hand' Elia
=========================================================================
As a short note, I must say that I've found no better place to perform than to a room of artists, writers, musicians and freaky-creative-types. It's like breathing, being able to feed from that flow. Everyone was excited to see what we had to offer, and Blair, Lord of the Grand Midway, gave us an extraordinary introduction. We hope to return to the haunted hotel and to Kerouac Fest in the future years to come! I hear that Phat Man Dee and Jason Kirin both had fantastic sets on Friday night, and I was very impressed with Damien Youth , David J., and other lovely poets, musicians, magicians, and dancers. What a lovely congregation. The energies were intense. Thanks to everyone who supports the communities they are a part of. There is no other way to continue forward.
-E.May
===========================================================================
Kerouac Fest '06 changed me. I realized as I was leaving and felt the pain of loss, of love and affection for friends… that the process of celebrating people is so dear to me. I'll still help people when I can but I think I need to move through the world and hold a mirror to people in my own way…and maybe that will help too.   And so I need to let go and trust my art this year…  Thank you all so much…my heart is so happy and so sad at the same time.
-Adam Blai
============================================================================
Here are my thoughts. I apologize in advance to anyone I forget to mention. First nine bows to Blair who is the most congenial host in this known universe. To the TypewriterGirls who could make Saturday Night Live funny again. To Dylan for reading his masterwork. To Skot Jones who performed the most hauntingly beautiful reading I have ever seen. To Brian Cope for his kind words about Gary Snyder. For Damian Youth and Ricardo Boccanegra who never cease to amaze me. To Phat Man Dee for the jazz. To Jim Donovan for the drum circle that showed us the Beatles were right, that I am you and you are me, and we are all together. And finally last but not least to Sarah Ireland for the kindness, the shots of vodka, and the "please fuck me" shoes.   Happy Trails!
-David from NJ
============================================================================
Chris Yambar is a friend of ours who has visited the hotel many times!   He's the creator of the non-stop coffee-drinking character "Mr. Beat".
Blair—
I just wanted to take the time to personally and formally thank you for an absolutely wonderful weekend during Kerouac '04. My work and travel agenda gets so hectic that I sometimes forget to kick back and absorb all the good stuff that I need to fuel my creative machine. Thanks to you (and Jack) I was able to get back to my roots for awhile and enjoy an atmosphere that red and energized my inner man.Kerouac '04 allowed me to meet some of life's most interesting children, drink of the bean and grape freely, and consume the most excellent vibes that Jack and Co. left behind as energy for the creative spark. It was a real treat being able to weave in and out of the many enthusiastic conversations within the ranks. Very Earthy. Very refreshing. And, at times, very spiritual and introspective. Listening to Baird Bryant talk of Paris during 'Beat Ground Zero' was a treasure. (Watching him eat and chat non-stop was marathon. A vision of true down-to-Earth mentorship). Having conversation with David Amram and having him play behind me as I stumbled through my Friday evening mish mash of spoken word humor (term used loosely) was an interstellar and unexpected delight—as well as an historical and humbling one. Meeting the folks from the Beat Mobile looks like it could lead to more promising things up the road for us both. Very nice people.Thanks for allowing me to supply you with a Mr. Beat image for this years mug. I can't think of a more fitting way to bring his 10th Anniversary to a wrap. What an honor! Too cool indeed!As far as the hotel being haunted—I slept like a baby. No critters were on hand to pester me in any way. The only noises I heard were people milling around about in festive fashion a floor below me and a tree branch outside that kept letting me know it was there as it window tapped throughout the eve. Other than that, the only spirits I could detect were in cans and bottles. HA!Your hospitality was over-the-top in every respect. My sneaking out early on Sunday morning has nothing to do with you or yours, I assure you! I always like to beat the sun when it comes to road time. I also wanted to get back to my sweetheart so we could scare up some brunch time together.
May God Bless you and keep you, my friend. May you always be greatly encouraged in all you do and may you walk in the strength of God's original design and purpose with every step of every day. The sun rises and sets on what he has ordained as good. Enjoy the warmth.
And keep in touch always.
-Chris Yambar
11-04-04
==========================================================================
 DAVID MCGRATH ZEN IN THE MORNING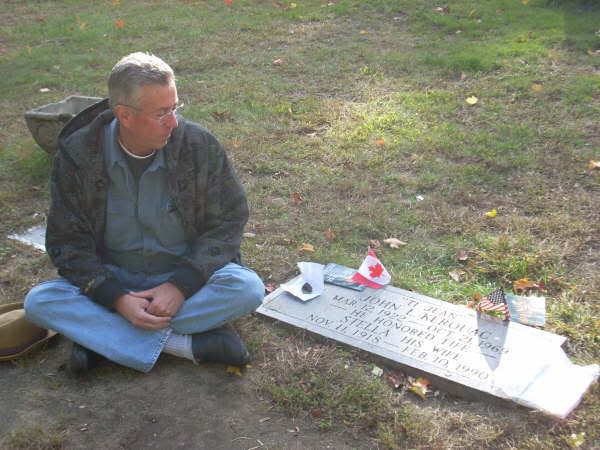 If you are short on seminars, I can do a 30 minute one on meditation, after 30 years in the Zen school. Allen Ginsberg said one of his great regrets was Jack Kerouac, because of some sort of misunderstanding with Gary Snyder, never really learned to sit correctly.  Jack Kerouac, Allen Ginsberg, Gary Snyder, and Philip Whalen were all influenced by the writings of zen scholar D.T. Suzuki. Jack and Allen actually rang him up one night drunk and were invited to his house for tea. Ginsberg, Snyder, and Whalen made a lifelong habit of meditation.  I could lead a half hour workshop teaching the basics of sitting, posture and breathing. Thus, anyone interested could get an idea of how to start if they wanted to take it up on their own. By putting one's cushion between the bathroom and the kitchen and meditating for a short time each morning one gets to calm down the monkey mind, start noticing the gaps between thoughts, become less judgmental, and live more in the present moment. This practice is for atheists, agnostics, christians, jews, etc. No belief required. You are just watching your own mind. Cool mind, warm heart.
-David
"Be excellent to each other." – Bill & Ted
============================================================================
It's been a long time comin'–
And Madness of Spirit, Mind, and Body Consumed All –
The annals of the TypewriterGirls at KerouacFest '08
-by Crystal Hoffman
Upon arrival, as one would expect, TypewriterGirl Crystal was whipped and put into chains and forced by the evil genius proprietor of the Grand Midway, Blair Murphy, to clean, clean, and clean until the old, haunted hotel was in tip-top condition for the arrival of the many glimmering, ridiculously-talented, and fetish-ridden guests. The first wave of guests arrived and everyone was instantly enchanted by the elegant dances of one Sarah Ireland and her good friend and aerialist Amber.
Packing in, in ones, twos, and threes, the guests piled up and the creative and spiritual intensity began to build. TypewriterGirl Margaret and her lover and official TypewriterGirl anthropological consultant Mihnea's arrival brought to the event a certain flavor of self-restraint and spiritual and academic high-mindedness. However, the arrival of now Official TypewriterGirl Heartthrob, Damien Youth, threw all of that to shambles, as TypewriterGirl Crystal proceeded to get ridiculously drunk (despite the protestations of Margaret) and allowed herself to be provoked into a series of conversations that left very little concern in the way of propriety for anyone involved—thus the tone of the event was set.
A glowing and very, very pregnant Renee, the lady of the house, welcomed the guests into her home and showed every possible cordiality to the crowds of cult-musicians, crazed artists, eccentric dancers, wacky poets, and ever-so-unstable and inwardly consumed academics. Perhaps not quite as afraid as she should have been, her demeanor was nothing, if not graceful.
That night, the sounds of Damien Youth's majestic voice and often profound and sometimes beautifully blasphemous lyrics filled the hotel, and, as the Gothic pied piper is want to do, drew a cozy crowd towards his recently established nook in the Beat Room.
The wandering minstrel, Ricardo Diablo, and Tim "The Law" arrived—causing the ridiculously unnecessary arousal of nearly all of the men in the building, for their almost uncanny sense of comedic timing and ability to ignite an Oscar Wilde-esque scene of witty banter no matter who their company might be—much to the chagrin of any lass or lad not quick witted enough to have a snappy and mildly offensive response to a "Smoking hot with the vagina of bull-dog or…" question. Yet, fortunately the friends and enemies of Minstrel and Law were reversed in the morning when they, according to KerouacFest tradition, woke the hung-over, adrenaline strung-out masses with velvety voice, quilted with the miraculous power to strike both shame and embarrassment and love and respect in the audience/victim/naked girl under the sheets trying desperately to maintain her dignity whilst recovering from a killer headache, trying to figure out why she had strange dreams of sex with Fidel Castro in a pool of seltzer water while Blair Murphy and Adam Blai compare haircuts, and Damien Youth unsuccessfully psychoanalyzes Dylan Fornoff, during the first few moments of waking.
Skot Jones, reknowned for his Grandly-omnipresent-Midway spirit, arrived with a full 72 hours of music. . .wait. . . no, no…scratch that…he actually never left.
Michael Berg and David J. (who are, in fact, not father and son…nor even blood relations of any kind) arrived together from a long, hard cross-country voyage on an eve of boisterous exaltations of May-December relationships, debates on Latin-American Socialism and, of course, equally enthusiastic amateur and professional pole-dancing (led by the Grand-Midway's dark Tinkerbell—the lovely Miss Sarah Ireland). Though David and Michael decided it was better not to become too intimately acquainted with the pole, they seemed pleased enough with their decision to answer the preternatural call of the cult of the Grand Midway the next morning as they drank tea in some of the most dandyish morning attire any of the Midway's occupants had ever seen—to much typewritergirlish pleasure.
The real kick-off of KerouacFest 2008 was the legendary Rosemary Ellen Guiley's engrossing and spirit-provoking mini-session on the Frank's Box and spirit communication, which was followed by a tour throughout some of the hotel's more renowned suites whilst utilizing the cross-dimensional contraption. Unfortunately Damien Youth's taunts, Adam Blai's blessings, and the Wandering Minstrel's cowardice perhaps outweighed the enthusiasm of the lord and lady of the hotel, Mr. Bean, and the Typewritergirls, as the spirits were unusually uncommunicative, yet Rosemary's continued presence at the hotel and her promised return in November stirred such ghostly excitement in the walls that the energy seemed to imbue the rest of the weekend with an extra special supernaturality. And, of course, as always, the former front-man of the band One (the members of which have frequently graced the hotel with their many talents), Dan Oatman, was an experience as close to otherworldly as any that the Frank's Box could have provided us with.
The next morning, the troupes were roused and fed an Amish Breakfast, which consisted of six different kinds of refined sugar held together with trans fat and flower and packaged in non-recyclable plastics. Fortunately, someone brought bananas and a fine establishment called Sheetz is within barefoot walking distance. An interesting concoction called the "Shmuffin" was a great hit with the til' now malnourished fest-goers.
A whip cracked soon after breakfast, and that whip's name was The Canterbury tales and its mad mistress wielder was Professor Catherine Cox, from the University of Pittsburgh at Johnstown—a sexy and brilliantly passionate lady who fed all of us our first taste of refined literary and historical study of the fest. It was delicious. Particularly apropos was the discussion of Chaucer's passionately rebellious, but devoutly spiritual nature and how it imbued the tales with a poignant and intricate criticism of human folly and corruption, whilst exalting the passion and courageousness that leads one to commit to a life of truly extreme pursuits. This served as an excellent segue to Adam Blai, Rosemary Ellen Guiley, and Chris Yambar's panel discussion on radical spirituality. The panel provided an opportunity for a pivotal moment in KerouacFest history, as a question that has been on the minds and in the hearts of KerouacFest regulars everywhere: Who, What, and Why is Adam Blai? And, also, how many times in your life do you get to see a real live exorcism tool kit! I mean, without being possessed by one or more demons.
Here the pattern of malnourishment came to a crashing halt in the weekend as the first of many ridiculously and undeservedly fabulous feasts were served. This time by the miraculous and charming sisters Molly and Kelly—a multi-ethnic home-made smorgasbord with crepes, potato soup, pasta, vegan cupcakes, and various other delectables enough to satiate even the mightiest of bohemian hungers, to which the wickedly handsome Jason Kirin gave an appropriately elaborate toast.
Later, after a break from the compact rush of intense poetry, spirit, and wet Pennsylvania mountain heat, we huddled on the front porch of the hotel at dusk and listened to Grand Midway Regular and recovering Ouija-board victim Mikey P. give a thorough mini-session on Walt Whitman as a man and as a determined self-fashioning poet.
And then. . . .
The Dalai Lama Pajama Party. . . which contained no Dalai Lama, nor very many pajamas; though the pajamas that were present were fabulous. Particularly, the bright pink footie pajamas worn by Typewritergirl Crystal Hoffman (who, if I do say so myself. . .which I do, because I am myself, looked pretty awesome). There were also three fabulous film screenings, with filmmakers present of Pranaddicto (To Have and To Devour!), Bohemian Beat Baby! and Windber After Midnight! Unfortunately, here things get a little blurry for me. There was vodka, I got married again, I had a side pony-tail, it was the 80's, I made confession to Damien Youth, TypewriterGirl Margaret Bashaar and TypewriterGirl Anthropological Consultant Mihnea stole TypewriterGirl Crystal's vodka and seltzer water and replaced it with a cup of dishonesty. I did not have sex with Damien Youth at KerouacFest 2006, and then I ran away. The end.
Morning. Blurry. Ricardo. The Asshole. God Damn Wandering Minstrel. Who does he think he is? Where are the bananas? Who's walking to Sheetz? I really want a Shmuffin. Margaret, can I have three dollars…wait is there tax on Shmuffins? Can I have…what's 3 times 7? Umm…
Friday. . .a little later than intended, the mini-sessions kicked off once more, this time with esteemed professor and renowned translator, Dr. Fred Fornoff's discussion of Don Quixote; Mr. Bean's discussion on applied cross-media usage of the Stanislavski Acting Method and subsequent writing-workshop wherein we all learned a little more about one another—in some cases a tad more than we would have liked to have known; James Bertolasio's presentation on the Art of Tattooing, its practical and social history, and place in modern day society (which was completely bad-ass); and finally, M. Scott Reagan's extraordinarily intriguing discussion of American Art Colonies in 21st Century.
Friday night proceeded to be ridiculously radical as Jim Donovan showed up in his van filled with drum circle goodies and primal soul gorging lungs. The second floor hall was lined with yelps, primitive rhythms, sweat-lined faces, and fanatical screaming—which ascended into strange, sweet rhythms and haunting chants and melodies, and a communal heart beat emerged, as proprietor Blair Murphy walked his mother and sister down the halls and through the beat-filled house.
The drumming only stopped after the voluptuous, insanely enchanting songbird Phat Man Dee and her Jazz Master Stand-Up Bassist, Harmonic Guitarist, and Saxophone Player took the stage. The evening saw an influx of guests, all equally contributing and succumbing to the spirit of the event. (Vegetarian Sushi provided by Kellee Gomola and M. Scott Reagan certainly helped) Adam Blai wielded his camera and strobe, painting with the very essence of the evening. The products of his efforts left us all near speechless. The hoards stayed up late into the night huddling in rooms to listen to private jam sessions, commune over red wine, whiskey, and perhaps a little more snacks than necessary, and rock out on Tibetan singing bowls.
The next morning, Blair Murphy's mother, Joyce, and sister, Meghan, made a breakfast fit for kings—therefore entirely far more than sufficient for a bunch of filthy bohemians. David from New Jersey started Saturday off by leading us all in Zazen Meditation, which was perhaps completely necessary to prepare us all for some of the most fascinating and intense mini-sessions of the fest. Brian Cope began the day with a talk on Gary Snyder in the lawn of the hotel, under a tree and next to the train tracks. He led us all in an exploration of what it means to be a spirit "Off the Path and On the Trail," which produced beautiful words by all involved. Dr. Tom Slater, then led a discussion of Avant-Garde film, which (despite technical difficulties and some unruly behavior) proved to be a wonderful forum for some very interesting intellectual exercise.
A train passed. The sun began its descent. George showed up with a typewriter made out of pizzas. *This is a typewritergirl being speechless*  Then the big night. TypewriterGirl Poetry. Ricardo. Joey and Steph dancing like mad. Michael Berg. Damien. Paul. David J. Between Liberties. Skot Jones. Violins. Soul Crushing Scream.
*This is a typewritergirl being lost in the oblivion of poetic bliss*
-Crystal Hoffman
=============================================================================
One week after Kerouac Fest '09 – A Gratitude Letter of Prayer
IT'S CHILLY OUT TONIGHT, midnight cold air like perfect mint passing through nostrils, perking deep into the lungs, filling them with the shouting smell of new potential. Yes! I love the early on come of October weather. Odd to be walking these small town streets alone now, in such serene perfect silence under the glorious twinkling stars, after such a roaring week of energy we'd just shared. How do we get away with it, Damien asked me the other day, so much noise in this sleepy little town our heart and spirits and minds could be heard for blocks away throughout the night. Thank you, all, each and every one of you, for participating in this latest Kerouac Fest. It was perhaps the smoothest one yet. I'm really proud of this angel wing we've swung. A real, tangible 'something' has begun to grow out of our efforts. Thank you all for the offerings your creative spirit graced 'the group experience' with. This weekend the offerings were endless, pure, specific. We've blessed one another. Keep it up. Keep up the good work. You are a Universe unto yourself, and your thoughts and blessings magnify as you simply offer them. How large we all are in hours of genuine communion like this. Did we not just share communion? How magnificent an example we've just enjoyed…
SO, THANK YOU! Thank you, the Joe Bob Smith, for your offering of pizzas for everyone the first night, and keg of beer #1 which you gloriously named "The Great Iron Keg of Prosperity." Thank you David McGrath, for being such a gentlemen Zen master and teaching us about breath, in the morning, and about discipline, for all the Zen and Kerouac books you've sent in the past which decorate the kitchen and halls, and for keg of beer #2 which you named "The Shi-eeet keg." Thank you, Robert Allen, for seeking us out, and for staying and bringing your cowboy hat and guitar, and for Keg #3. Thank you, Scott Penrod, for Keg of beer #4 and later emergency keg of beer #5, and for the tap, and the giant fridge that kept them all cold. Thank you, Stephanie Conrad, for your offering of delicious juices and sodas, and for showing off and sharing your long beautiful swaying hair this weekend, for coming to every Kerouac fest since the first. Thank you, John Cassady, legend embodied, for entering our family, for travelling all the way from California, for sharing your tender family memories, for being our Beat guest of honor and even calling all of us brother, and for asking every girl in the building to marry you. Thank you, Michael Wadleigh, for your offering from long ago of directing and recording the 1969 Woodstock experience which we played on re-loop for three days in tribute. Thank you, John Shaffer, for asking your dad to let us use the mini-parking lot next door. Thank you, Dave Distefano, for representing the local, for creating a wall of sound for us on Thursday experimental night. Thank you, T.J. and Joe Myers, for your offerings building third floors ceilings and bringing the new Damien Youth Phone Booth, and for professionally lighting the stage for the bands. Thank you, Mike Petrunak, for teaching us all about Mark Twain, and last year Walt Whitman, without notes, seemingly effortlessly showing off your brilliant memory skills. Thank you, Skot Jones, for sense of humor, the support, for levitating often on the second floor when no one is looking, and for the wonderful mini-class on Burroughs and cut-up writing techniques and Memes you taught Thursday night launching the entire weekend event. Thank you, Ted Timko, man it has been a joy to have known you, thank you for sharing your family history, for selling us this building, and for continuing to support the Arts. Thank you, Tom Leslie, for being the secret man behind the web page, for working for free, for being awesome and on our team. Thank you, Shea Frola, for just hanging around all weekend in those sexy thigh highs and batting your beautiful eyes at everyone. Thank you, Todd Holsopple, for your offering of the large stage speakers and sound board donation. Thank you, George Sporay, for the super type-writer pizza you built for us last year, for putting doors on the ceiling, for building our lover's perch, second level, Juliette Porch. Thank you, Katherine Ramsland for being the first ghost-hunter to come here, for speaking here at our earlier ghost fests, for writing about us in your books, and for almost making it this time. Thank you, Adam Wisniewski, for the $100 that paid for John Cassady's flight back and for being the one, the Mid-Summer Nigh king to shout, "Lovers and Mad Men have such seething brains!" Yes! We do! Thank you, James Ilia, for driving so far North and finding us, for becoming all our friend and archiving us, for bringing your own special Iron City beers -for all to enjoy, for dressing as The Godfather and reminding us continually that life is short and you don't want to see no fuckin' around, keeping the peace, for being a filmmaker here and archiving so much. Thank you, Courtney Hall, for the cool lamp of bones, for finally bringing the fabulous, show-stealing Bridge City Bombshell Girls here, and for always staying for extra days after Kerouac Fest adding a smile until the last minute. Thank you, Chris Yambar, for sending the new coffee mugs with Mr. Beat drawings on them, for the good wishes, and for the spooky Lugosi painting you painted that lurks on the wall. Thank you, Rob Miller, for performing in Mid-Summer Nights Dream for us, for the stage podium you brought, and for all the strange other odd objects you thought would fit in well here like the iron bear claw trap. Thank you, Terry Stewart, for coming all the way to Windber to celebrate the Alan Freed Rock and Roll Star, and for celebrating Freed and Rock and Roll at your famous museum. Thank you, P.K. Harmon, for taking us to the islands with your song and poetry on our opening Thursday night. Thank you, Justin Garmen, for roaring out your young man confident voice to kick off Friday night, singing, the beat silking out like dice rolling in your hands, Damien Youth hearing you even joked "Hey, who is stealing my act?" Thank you, Kevin Bean, for your rich mini-class on Deciphering Shakespeare, and for performing as Bottom in Mid-Summer Night. Thank you, Scott Barb, for building with your dad the coolest Scoobie Doo secret fake bookshelf swivel door, making the toy of the Century in the hotel second floor hall. Thank you, Crystal Hoffman, for being silly, for inspiring Pants Off / Dance Off, for cleaning early, for wearing a beard, for Moses in the Morning class, for spanking people across their back side with a saw, for engaging unsuspecting strangers, for really being silly fun, for representing the pirate, Cuban, socialist, communist, surrealist, belly dancing, beard-wearing feminist delight branch of our event, for bringing us Typewriter Girls shows, and for bringing us Margaret. Thank you, Margaret Bashaar, for bringing us Crystal, for high tea with Oscar Wilde and the cucumber sandwiches, for performing your ever-maturing Typewriter Girls shows for us, for reading your poetry –soon you'll have to be called Typewriter Woman- , and for all the wonderful generous burning Kerouac "only the mad ones…" t-shirts you kindly had made for everyone.. Thank you, Camillo Correal, for letting me throw rocks at you last year, and for stage managing the Bridge City Bombshells this year. Thank you, Ed Sanders, for trying to levitate the Pentagon, for writing Tales of Beatnik Glory, and for almost making it this year to our event. Thank you, Paul Kuzupas, for enchanting the woods here further, for us, as the Hollow Owl echoes, and for bringing music out of your arms for us this weekend. Thank you, George Turner, for sculpture, for offering your spirit into carving the Beauty Statue you built here, for losing it to the volcano of 'win some lose some', and then for rising with such personal determination and rebuilding the Beauty Statue again. Thank you, Norman Ed, for always sending you support and best wishes for our events, even when you can't enjoy them, you send positive strong word. Thank you, Bonnie the supreme cook, for the fantastic monstrous endless shrimp-filled vat of Cajun jambalaya, and the 'get on the bus' cake.. Yum! Thank you, Rich 'Ed' Hagen, for allowing us to tour your train graveyard for the first time 'officially', and being a fine host. Thank you, Brian Cope, for teaching a class on Gary Snyder way out by the train graveyard engulfed in the woods as a class like that should be. Thank you, Dan DiPaolo, for writing so many nice newspaper articles about us, and for bringing the delicious hot sausage sandwiches on Saturday afternoon. Thank you, Jon Timko, for bringing the early fun framed drug prescription forms of antiquity from the hotel's history, for coming all the way from Baltimore, for bringing the rest of your family, for saying on stage last year, "Art is now. The time is now," for bringing us so many excellent cool early blackand white photos of the hotel from fifty years back. Thank you. Mark Swindler, for the magic show, the secrets you exposed to us, and the new gentlemen performer par excellence of showmanship, chivalry, and enchanting mystery. Thank you, Bill Murray, for performing in the movie The Life Aquatic which we also watched all weekend, your character all heart even in frustrating trial, you delivered. Thank you, Bill Eggert, for letting us call you Silent Cinema Bill, for performing as Lion 'Snug the Joiner' in Mid-Summer Night Dream for us, and then Bella Lugosi at DraculaCon for us, and even teaching a joyous mini-class on comedians in silent film re-acquainting us with our lost ancestral American treasures. Thank you, Iraklis Pappas and Tom P, for making the surprise wonderful meal for Friday group dinner, for taking all that garbage out day after day, and for taking one for the team by taking the creepiest worst no-one-wanted-it room in the hotel to sleep in. Thank you, Dr. Brian Dripps, for being the first guest to enter, and for all the little silent things you did last minute to kick off the weekend for the rest of us… toilet paper, light bulbs, sweeping. Thank you, Stephen Segal, for offering your evening presentation of Weird Tales Magazine tales. Thank you, Molly Mulcahy, for the fine Spanish cuisine on Saturday afternoon. Thank you, Dylan Fornoff, for reciting the play Zoo Story, for memorizing and performing an almost entire book-length monologue for us, and for your mural-size paintings everywhere, for the flair, for the so very important Sacred Heart. Thank you, Jeff Webb, bringing us a mini-class scope on the Beatles, their lyrics, and the fun afternoon. Thank you, Curtis Caldwell, for living here in the hotel, for performing in Mid-Summer Night and Zoo Story for us, for launching your first great USA road trip with Kevin from right here. Thank you, Jesh Pulliam, for your marvelous fresh Friday afternoon dish. Thank you, Josette Villecco, for printing copies of Kerouac's List of Thirty Essentials, "Essential #4, Be in love with your life." Thank you, Dan Oatman, for playing and singer your smilin' blues for us on Thursday night. Thank you, O little town of Windber PA, for your patience, for giving us this space, for tolerating all our 24 hour noise and roaring glorious enthusiasm, for your police, your mayor, your bars, your lovely park downtown. Thank you, Tracy Mortimer, for playing your stand-up base. Thank you, SCARED crew, for sending the radio show recording of your adventures here for us to post. Thank you, Rosemary Ellen Guiley, for almost making this Kerouac Fest, and for attending so many other hotel events, Frank's Box, etc. Thank you, David Amram, for coming to earlier Kerouac Fests and fueling the weekend with your song, for getting us all to go on that crazy Coney Island Adventure for hot dogs, for writing and sending us "BEAT-ific hugs to all the Cats (and kitties)" and "ESP musical messages of my memories…from that endless road." Thank you, Jerry Cimino, for driving the Beat Mobile all the way here from San Francisco, three times, for celebrating us at the Beat Museum. Thank you, Francis Ford Coppola, for having the cool to snag the movie rights for Kerouac's On The Road, for taking risks in making movies for us, for caring about gravitas, ascension, American cinema, and balls, for having the first line in your American cinema masterpiece The Godfather be "I believe in America…" Thank you, Catherine Cox, for being our coolest professor, for speaking again and again at our events and with such intellect and precision, for this latest mini-class on the Beats and the Beatific vision, which was just perfect. Thank you, Alex Grey, for your offerings of painted visions which seem to hang everywhere in the hotel. Thank you, Al Duvall, Riccardo Boccanegra, Tim Lawler, Aimee Kast, Erika May, Jason Kiron, Manuel Ibarra, Marc Wishengrad, Marshall Rubin, Ed Schnetzinger, Paris Patton, Mark Rein-Hagen, Jim and Joey Bertolasio, Andrew Turman, John Menesini, James Birmingham, Sterling Lord, Ally Carter, Nikoletta Skarlatos, Garland Thompson, Ian Gordon, Adrian Allen, Howie Alexander, Christiane D. Leach, Ken Foley, Kenyatta Sullivan, Betsy Youth, Alecia Phulwani. Beth Depalma, Angela Bayout, Julia Martin, Mike Yanisov, Ken Brady, Rickie Lee Jones, Steve Edington, Maggie McOmie, Bob Cohen, Fred Fornoff, Keri Dadura, Derrick Smith, Corey Lunchuk, Barbara Purbaugh, Mark McGrath, Jim Donovan, Mathew Fox, Baird Bryant, Stan Rice, Brett Bashaw, Meghan Bashaw, Mom, and everyone else –so many more to list- who couldn't make it this year but played a magical role in creating earlier Kerouac Fest memories as well as adding to the film Coolsville. Thank you, William Kavar, for coming and checking us out even if it was not until Sunday and very late, we still appreciated you joining us. Thank you, Michael Dennison, for attempting to come all the way from Beirut. Thank you, Justin Hopper and Kathleen Knauer, for recording all of us for a future NPR All Things Considered broadcast. Thank you, Marium Daisley, for the giant really gorgeous color-flooded tabletop book Celestial Gallery. Thank you, of course, to all the original American Beat writers from Jack Kerouac to Allen Ginsberg to William Burroughs to Neal Cassady to Carolyn Cassady to Gregory Corso to Lawrence Ferlinghetti to Gary Snyder to Michael McClure to all the others, your lovers and poet friends, for your works, shared poems, pages, American passion, and mythology. Thank you, Sarah Ireland, for coming early and washing all the sheets and blankets, making the beds so we are all cozy, for elegantly slowly performing on your stripper pole, and just for being Sarah. Thank you, David J., for being a rockstar who came to party in my home, for performing classics like With the Indians Permanent and Belle Lugosi's Dead and St. Petersburg October 69 , for spending days of your time living with us, for your entire body of career work, for the album you are producing with our friend Damien which you shared here, for British elegance watching you make tea in the hotel kitchen every morning, afternoon, and eve here. Thank you, Adam Blai, for living here for a full year, setting up so many little surprises, the mini-theater, teaching classes on exorcisms, and capturing all the wonderful wonderful wonderful signature light paintings of everyone. Thank you, Tommy Ameba, for banging out there and taking the stage, midnight rocker superhero secret surprise of the weekend. Thank you, Damien Youth, for filling these halls with Homer-magnitude song, for your offering to take a risk investing in this property years ago, and for performing your songs from the heart for us Saturday night, for setting your next CD around a mythology here. Thank you, Phat Man Dee, for pushing center-stage in here with incredible enthusiasm and showing up for every event since, for bringing all your friends to meet us, for writing and singing siren songs about us with diva jazz classic beauty. Thank you, Who else was here? I looked around the Midway bar and saw so many other artist friends adding to the immediate mix: Mihnea Vasilescu, Chad the Vampire, Kevin brother strawberry the balloon man, Mike Flaim, Crystal Fabina, Jason Bafile, Alliey Kuzupas, Kristina Katsikaris, Matt McNees, the rest of the Amoeba Knieval band, the Skirt Tasters band members, Melanie Cowan, Becca Frola, Lindsay Timko, K, Stacey Rogers, Dave Kirchner, Matt Himes, all the Bridge City Bombshell Girls, and everyone else running through the hotel. I noticed Rob Gray in my peripheral vision capturing photographs, the important archiving we'll all be appreciating when looking back on all of this in fifty years. Thank you, all! Take a bow.
I HAD A DREAM DURING THE WEEKEND, seemed so real when I woke I had to stop and question if it'd actually happened or was just a dream, the place was flooded with celebrities as well as all of us, the musician Neil Young had called in the thick of the party, I was on a cell phone with him trying to hear him over the music, he was saying, "Yeah, This is Neil Young. I want to come out there and check it out. I've heard so much about the hotel and what you all are doing there…"
THE SWOON OF THE EVENING WAS SO MASSIVE and so full and rich and marvelous and generous and kind, kindness from one artist to another, a tsunami of offerings under one roof, people were just walking in the door and handing in bottles of wine and books and offering their skills and all kinds of gifts for the group experience, that at one point I started to lose track and finally just wrote on a small note card the word 'ALTAR' and tacked it to the Sacred Heart above the stage.
I THINK OF THE LINE from Charles Martin Smith's character in the beautiful Arctic wilderness story Never Cry Wolf, "I can't really be sad because it's here that I've begun to feel wonder again, like when I was a kid, and this makes me deeply happy. I wish I could say thank you, just so, straight into the Universe."
-Blair
===========================================================================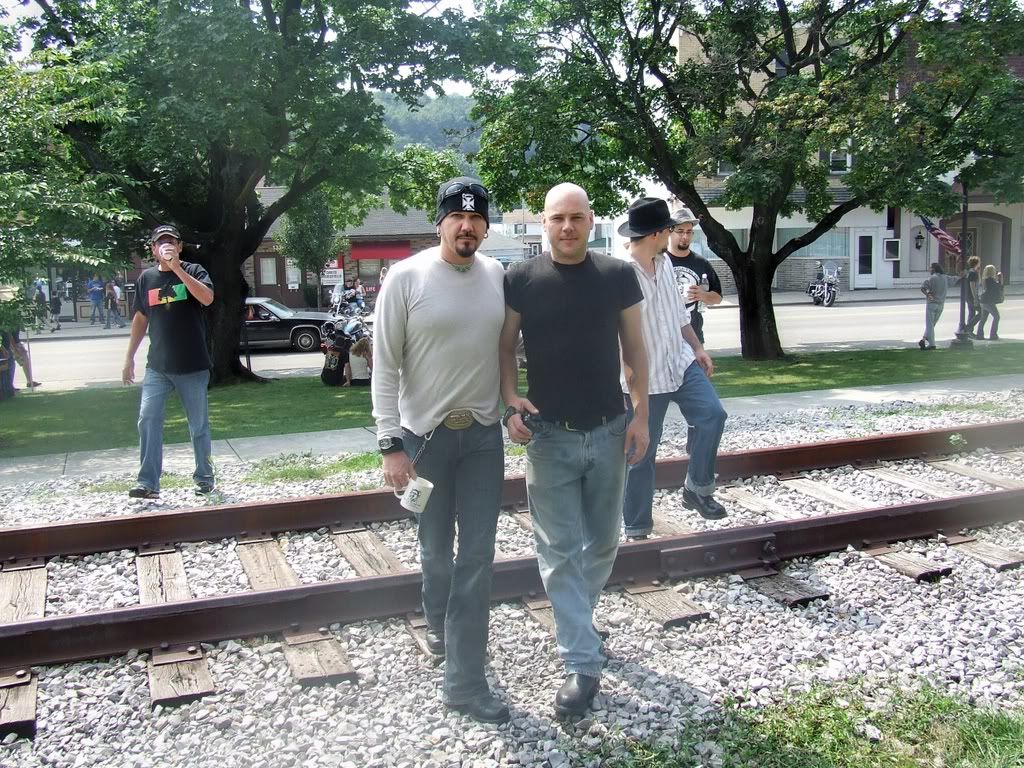 (Ricardo and Blair)
Kerouac Fest is the climax artist event here at the Grand Midway Hotel. They last for days. If you've been to one of these in the past you know the drill.
1. You have to request entry ahead of time.
2. You have to offer something for the group experience.
Kerouac Fest is not open to the public. No money is exchanged. It is a communion, an alternative example of how artists can celebrate one another. It is based after a pot luck. It is a party for artists, by artists.
Want to attend a Kerouac Fest? Add some beauty to this lovely congregation? Surge some of your own beautiful energy to the pounding beat to make this event even more intense? Your contribution doesn't have to be expensive or massive. It can be anything. What are you good at? What do you love? We can always use lots of meals, and other kinds of offerings to manifest a full weekend of living. Be creative. Lovers and madmen have such seething brains. Only 32 rooms, so depending on how far you've traveled your 'group' will get a single room as a base camp. There are extra sofas so you might bring a sleeping bag. Bring your own towel. If you bring a date they are expected to add something to the group experience as well. There are no spectators at Kerouac Fest, everyone is a celebrated peer. Kerouac fest is a great escape weekend. It is a great roaring time, with bohemians, coffee, and probably very little sleep. It is the real thing.
-Blair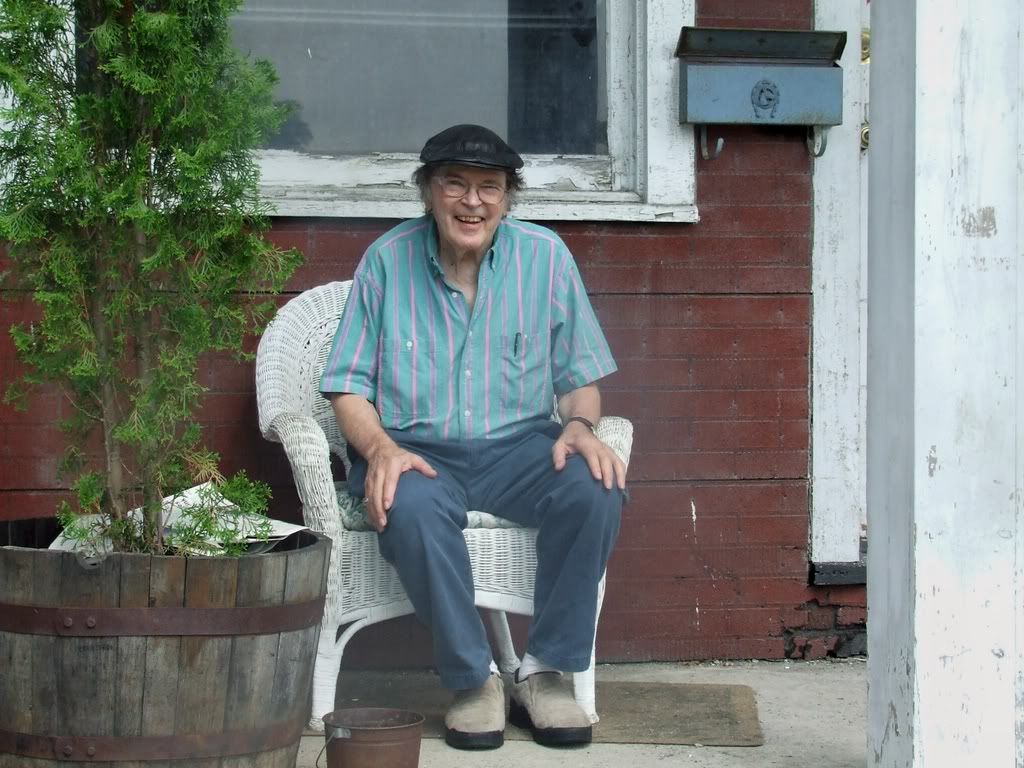 (Baird Bryant)
==============================================================================
O ME! O Life!… of the questions of these recurring:
Of the endless trains of the faithless -of cities fill'd with the foolish;
Of myself forever reproaching myself, (for who more foolish than I, and who more faithless?)
Of eyes that vainly crave the light -of the objects mean- of the struggle ever renew'd;
Of the poor results of all -of the plodding and sordid crowds I see around me;
Of the empty and useless years of the rest -with the rest me intertwined;
The question, O me! so sad, recurring -What good amid these, O me, O life?
Answer.
That you are here -that life exists, and identity;
That the powerful play goes on, and you will contribute a verse.
-Walt Whitman
Be in love with yer life.
-Jack Kerouac