From our first days of moving in we'd decided not to fix up one room, but to leave it as is.  This became known as the Monkey Room.
The History of the Monkey in the Monkey Room 
I have no idea where our little monkey friend originally came from, some jungle somewhere perhaps…  From his earlier tree-swinging jungle past, he eventually ended up working in a feature film with actor Sean Connery, the 1992 movie Medicine Man.  As his web page notes, Connery skyrocketed to international fame as the suave, confident (and many say definitive) Secret Agent 007 in six of Ian Fleming's Bond movies over the next decade: Dr. No (1962), Goldfinger (1964), From Russia, With Love (1964), Thunderball (1965), and You Only Live Twice (1967), and Diamonds are Forever (1971).  Movie director Steven Spielberg said of him, "There are seven genuine movie stars in the world today, and Sean is one of them." Queen Elizabeth II eventually knighted him in July 2000.   So, our little monkey was in pretty good company.
The plot summary for Medicine Man is listed as follows: An eccentric scientist working for a large drug company is working on a research project in the Amazon jungle. He sends for a research assistant and a gas chromatograph because he's close to a cure for cancer. When the assistant turns out to be a "mere woman," he rejects her help. Meanwhile the bulldozers get closer to the area in which they are conducting research, and they eventually learn to work together, and begin falling in love.  It should be noted that the monkey's performance went uncredited in this film.
From his film role in the Amazon he was next shipped to Hollywood, California. This is where we crossed paths. I was working a film job at Cinergi Pictures when I heard some people going, "Eww! Jesus! Show it to Blair! He'll like it. He'll want it!"  They directed me to a wood crate no one wanted to go near. I looked it. It was instant love. I picked up our little monkey as my new favorite low-maintenance taxidermy friend. Yes, it is true, he was already dead. But I love dead things. So they gave him to me as the new caretaker.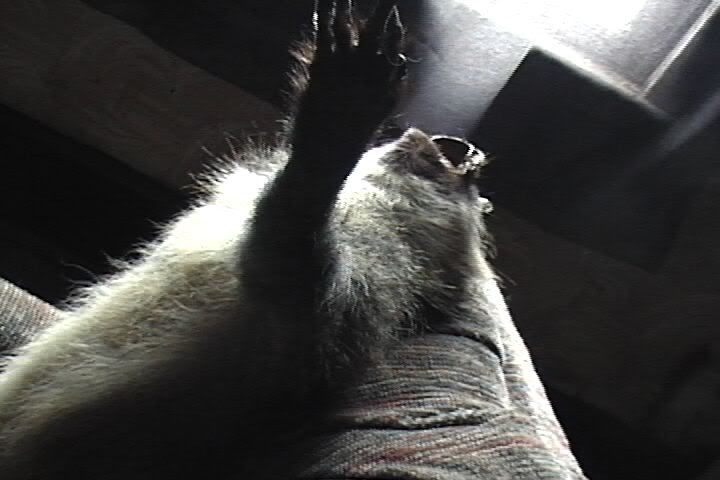 He is missing his teeth, and somewhere along the line someone stitched a strange inner mouth-cap into his face. It almost looks like a tongue yawning out. I brought him to an LA taxidermist to have a new set of little money teeth created, but the going price for exotic monkey teeth was too high at the time, everything film and prop-related being so expensive in LA, so he remained gummed. It is a very odd look.
At one point while I was shooting Black Pearls a few actors were filmed drunkenly dancing with him. This came across as exceedingly creepy.
Later, while directing the documentary of the prestigious Dracula 97 convention in LA which boasted countless scholars from around the world, a second unit camera man with some free time filmed the monkey. He set the monkey up on the baby grand piano in the large hotel lobby. On film the monkey delivered a stellar performance, appearing to play the piano and sway Humphrey Bogart-like, looking off dreamily into the distance, a hairy, little taxidermy-fingered, dark wet-eyed, after-hours classic lounge solo act.  This film was hijacked in the post-production stage by the jerkoff producer W K Border, who stole the directing credit for himself long after the movie was shot and made a shameless piece of shit out of our serious efforts.  This raped Dracula 97 film came to be released as Sex, Death, and Eyeliner, 2000.   I was not invited to the film's  Hollywood premiere.  I was never paid by Neo Art & Logic the $10,000 for bringing it to them and directing it.
The monkey was not pleased.  Nor was I.  I left Los Angeles disgusted.  I relocated to the hotel project in Windber, Pennsylvania, and I brought the monkey with me. We gave him his own room, The Monkey Room. We even bought him his own special little reclining chair.
This room has gotten a lot of attention over the years.  Many people have been photographed with the monkey.

Monkeys are way cool in many ways. They often appeared in music videos during the 1980s. There was a big dead monkey in the classic 1950 Sunset Blvd. In monkey-film stardom, the flying monkeys from The Wizard of Oz still hold the definitive enchantment among monkey roles. But Kong, in King Kong released in 1933, holds the heavy-weight champion of the world monkey film role. With the release of Planet of the Apes in 1968 we saw a future world populated by intelligent monkeys!
Filmmaker Rob Zombie is the only other horror filmmaker out there currently with a stuffed monkey in his home being referenced regularly in interviews.  But our monkey is far cooler, as is our home, which is an entire haunted hotel.
The monkey also recently appeared in several short films shot right here in his own room, among them Windber After Midnight by Bill Eggert, which he was fully credited for his role.  Damien Youth also wore the dead monkey like a shawl in Skot Jones' film Enormous Hotel.
====================================================================================
Sleeping in the Monkey Room -By Leah Hanson
Since Blair didn't necessarily want Adrian and I to sleep in the monkey room because of the mysterious deaths that have happened in the dark corners, I would love to write of the experience for one and all to read.
We arrived in Windber on Thursday afternoon. After being in the car since six o'clock that morning we were ready to find a room to crash for a bit before the music and poetry and general mayhem that first night. We were met by the lovely Blair Murphy and told we could crash anywhere and to just find a couch or a corner. So we went and explored the second and third floors to see what we could find. We discovered the whole glory of the Grand Midway Hotel, which reminded both of us of the house in the movie Fight Club. During our search for that perfect corner to throw our sleeping bags and Kerouac books and later lay our precious heads, we came across a room which looked unoccupied except for a child's recliner chair with what appeared to be a monkey relaxing in it with a look of sheer terror on its face. A sick fascination came over us and we immediately ran and found Blair to ask if anyone was staying in Room 11. Of course nobody was. So we excitedly asked if we could stay there. He gave us a look of confusion and asked seriously, "Do you WANT to stay there? Nobody's ever spent the night in that room before…" We figured it would be more fun than sleeping on any unoccupied couches we could find.
The only light in the room was a soft red glow which came from a single light bulb resting on a sink that had to be the original from some ancient time. The sink was non-functioning, of course, and had some kind of bones in it. The room was filthy and extremely beat (as in beaten-up), but that weekend anything that could be called "beat" in any sense of the word was like a god-send from heaven and we rejoiced in the glory of the dead monkey and his room.
The monkey must have used his magicks on me, for I don't remember much about actually sleeping that night. I passed out rather quickly and was unaware of any unearthly or other-worldly activities that might have occurred. I do remember that the floor was very uncomfortable, for my sleeping bag kept rolling off the carpet and onto the wood floor next to the wall.
The next afternoon (or whenever we managed to awaken) we found Blair, who proceeded to tell us some extremely disturbing stories of what happened in that room in the past. Apparently I slept literally inches from a hole in the wall where charred human bones were found. On returning to the room, I stood in front of the sink mesmerized, thinking of the murderers of yesteryear washing the blood from their hands in that very sink. And the wall that kept drawing me closer and closer as I slept through the night seemed to imprison the ghost of a girl trying to grab me to help her escape.
We also learned the monkey was once a living creature, torn apart and resurrected by a taxidermist.  I'm not sure how he died, the expression on his face makes me wonder.  But no matter how eerie he appeared, he was the guardian of Room 11.
Needless to say, we were very happy to be moved to the third floor for the remainder of our stay at the Grand Midway.
====================================================================================
Photo Sessions and Music Sessions in the Monkey Room
The Monkey Room is often used for photo shoots.  Here Florida's Cadillac Creeps pose for local photographer Jason Bafile.
 ==========================================================================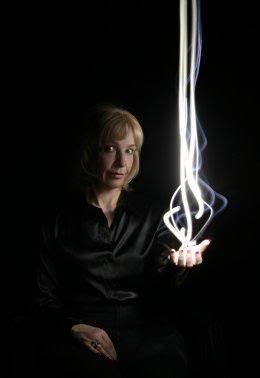 My Introduction to The Grand Midway Hotel -by Rosemary Ellen Guiley
The Grand Midway Hotel is appropriately named: it's midway between Here and the Twilight Zone.  Step inside – and time and space change. Spend the night – one creepy adventure.
You don't go to the Grand Midway for a vacation. In fact, you'll probably need one after you've been there. Check your hair color in the mirror on the way out – it may be white.
It was a hot June day when I first visited the hotel. I'd been to the website, gotten photos and correspondence from Blair, learned more about it from Adam Blai. Considering its age and the years of neglect before Blair acquired it, the hotel is in reasonable shape. The ghosts like it!
The three levels plus basement have numerous "hot spots." Blair lets his guests take their own tour around to pick up impressions, and also pick the bedroom of choice if they are staying overnight.
One room with a heavy feel has a canopy bed and a dusty stuffed coyote on a dresser. Everyone's decor. I didn't want to stay there. The back staircase felt active. Guests have seen the black figure of a malevolent male ghost on the staircase. In the front hall is the ghost of a young woman who died on a balcony one July Fourth nearly a century ago when fireworks tore out her throat. She hemorrhaged to death. Something lurks in the basement – is a body buried there?
The room that rivets everyone is The Monkey Room on the second floor.
It's not just because of the dead, stuffed monkey with a gaping mouth, arranged in a kiddie easy chair in the center of the room. The Monkey Room has a thick air of foreboding. Blair confirmed that this is one of the most active spots in the hotel. Human bones of unknown origin were once found interred behind a wall. An unpleasant entity lingers there. You don't sleep in the Monkey Room – if you're sane, that is. I picked the bedroom next to it.
Well, that choice didn't last!
Adam arrived and as darkness set in we all set up EVP and took photos. Using one of Adam's Panasonic RR-QR80 digital recorders, we got some chilling EVP in the Monkey Room. In fact, the Monkey Room atmosphere got so unpleasant as the night wore on that I decided maybe I really didn't want to sleep in the room next door. I moved down the hall – and once we ended our surveillance, I went to sleep, sort of – at least I was not disturbed.
The next day, Malevolent Man gave us chase around the back of the hotel, flitting from room to room. The occupant of the Monkey Room went into hiding – no more EVP, at least for this trip.
Am I going back? Absolutely.
===================================================================================
Notes on Weekend -by Blair Murphy
Rosemary just left. For someone who was just speaking to fifteen million listeners on Coast to Coast with George Noory not three nights ago on the radio it was a trip to have her here in our little town for a private investigation. We ate at the little Valley Dairy diner at the end of Rock and Roll Blvd. Classic cars lined the street. Adam Blai was here too, as well as Rosemary's partner, Will Fellows. I took them to the local Becky's Grave. We stopped at the Flight 93 crash site. We drove to the far off Martha's grave (Martha who was killed by fireworks). We all went to Lucky 13 for late night pitchers of cold beer, landing in the middle of a Pennsylvania dancing wedding party of real character.
And we also combed through the hotel. Without us telling them anything Rosemary and Will zeroed-in on certain rooms, "What's this back staircase?" "Something's here!" "This back room definitely." Here, there, someone in here, nothing in there. Then they compared notes of impressions.
We went for a night of EVPs, electronic voice phenomena (Adam suggests using the rare Panasonic RR-QR 80). The day in the hotel was heavy with energy and intuition. Evening came and things seemed to settle out. Adam said, "Don't worry, just you wait." Night came and the hotel energy turned like a massive mile-high worm. We ended up in the dark in the Monkey Room. With infrared video and digital sound we asked over and over for someone to show themself. And in the silence of that room Rosemary eventually recorded a growl, and a woman's voice that sounded in distress, as if in response to us, crying out what sounded like, "I can't help it if you can't see me!"
Let me say that again. We recorded a woman's voice in a pitch black silent room in the hotel, crying out, "I can't help if you can't see me!"
Add skin-crawl chills here. More was recorded. Adam is cleaning up the EVP now. I will post this section of the actual recording in the Virtual Tour (Monkey Room, #11) for anyone who feels like listening to it. Give us a few days to get it posted.
And that's just the beginning. Rosemary plans to return to the hotel for further research as a larger story is growing out of all this. At least she was impressed, so I'm happy as a host. Rosemary said she plans to write an article about it for FATE Magazine. She also plans to include the Grand Midway Hotel in her next edition of The Encyclopedia of Ghosts and Spirits. Cool beans.  More to follow…
====================================================================================
Great Fun… Mon Jun 19, 2006 -By Adam Blai
This was a really nice time at the hotel: lots of good conversation, fun, and some of the most palpable ghost manifestations I have ever felt, including lots of EVP evidence: whispering voices , growls , talking and yelling . I'm going through the data this week as I think there are many other quieter words and noises that were not present in the room during recording.
Oh yeah, Blair had an encounter with something in the wall that was talking to him when he was alone in the Monkey-Room(tm).
Blair was a great host as always, Rosemary and Will were great people.  I'm looking forward to our next research session!
================================================================================
Leah Hanson writes:
i'm SO GLAD i had no idea about any of this when i slept in that room…
it freaks me out just to think about it!!
i knew it was a young woman who was killed in there. you've gotta find out her name! we need to honor her in some way.
Adam Blai replies:
We'll try…  Rosemary is coming back and we are going to try and learn more…the echoes of the hotel ghosts will be heard around the world for generations to come now…on this site and probably in Rosemary's encyclopedias and other works.  It will be another private investigation, so sorry to those that may want to come and observe.
======================================================================================
THE CRYING-OUT E.V.P. GHOST -by Blair
Famed paranormal investigator Rosemary Ellen Guiley (The Encyclopedia of Ghosts and Spirits) came to visit. She stayed the night and conducted an exploration on the hotel. Aware of the activity in the Monkey Room, she, Adam Blai, myself and another investigator, attempted an E.V.P. session for about two hours in the dark in the Monkey Room.
E.V.P. stands for Electric Voice Phenomena. It is becomming a very common practice. In Katherine Ramsland's fabulously fun book Ghost, Rick Fisher, founder of the International Ghost Hunters Society and E.V.P. pioneer, explained to her of the digital recorders and their process, "Think of the possibilities… We can actually pick up spirit voices on these things. It's amazing. If we can improve this technology , we'll be able to communicate with loved ones, solve unsolved murders, and find out what it's like over there. I have this feeling they are around me, just waiting for me."
So back in the Monkey Room during our E.V.P. attempt here in the hotel that night, Rosemary and Adam kept asking, "Are you there? Is someone there? Please tell any of us if there is someone here? Please speak if there is anyone here…"
This went on for a good dark two hours.
Later in the evening we played back the recordings to listen if anything had been captured. Sure enough, a very clear recording surfaced. It was chilling. Among all this hiss and fade basic sounds of the room, there were three parts to an unusal recording captured.
A.
The first was a deep growl, animalistic and male.
B.
The second was a woman crying out, "I can't help if you can't see me!"
C.
The third was the woman crying out something different that was undecipherable. It almost sounded like she was ordering someone to do something or to stop doing something.  Whatever this recording was that was captured, I believe it wasn't faked because I was in the room with Rosemary and Adam the entire time and the equipment never left my sight.
At one point they requested I remain alone in the Monkey Room back area for about twenty minutes. I have to admit, though I've lived here for a few years and experienced many unusual moments within the building, this gap of time felt particularly otherworldy. I'm sure my imagination was racing. But the energy of the room in that back corner alone in the dark was chilling as well. I sure felt like someone was in there with me.
This "crying out" EVP recording was inspected several times. We placed it up on the web page for a while so everyone could here it for themselves. Woman say the cry makes their skin crawl.  Adam particularly was concerned with the growl part. A local band made a copy of the EVP and incorporated it into one of their songs.
==================================================================================
The Monkey and the Typewriter Girls
The Typewriter Girls are a group of literary wild women out of Pittsburgh who visit often.   They love the monkey.
In this photograph below they re-enact the myth of Abraham's third unrecognized son, Abraham Jr.   Titled: "Abraham Jr., his wife, their dead monkey child, and a rusty saw."  (Photo by Adam Blai)