Happy holidays!  Here's some fun random footage of the hotel third floor over the winter!
==============================================================
(photo by Jason Furda!)
==========================================================================
THE STAIRS "HOLY HOLY HOLY HOLY HOLY"
The stairs leading up into this long, enchanted stretch of hall, just like the staircase below leading to the second floor, are lined with engraved plaques.  As you ascend into the third floor, the steps read, per step, "-Holy -Holy -Holy -Holy -Holy."  (These plaques are often thought to be antiques from a church relocated into the hotel.  They were actually created for the hotel and are a reference from America poet Alan Ginsberg's poem HOWL, a statement declaring one's innate holiness.  This poem was put on trial.)
==========================================================================
THIRD FLOOR RED WINE, CHEESE & FULL MOON PARTIES!
We have 'em every so often, usually in February.
Hotel Moon of the Week: Phobos! Mars has two moons, Phobos and Deimos. These moons were named after Ares (the Greek God of War, known as Mars to the Romans). Ares summoned Fear (Phobos) and Dread (Deimos) to pull his battle chariot. When closest to the Grand Midway Hotel, Mars is 33.9 million miles away (56 million kilometers), when farthest it is 249 million miles away (401 million km). Here is a picture of Phobos…
March 4, 2113:  What a nice impromptu evening we had here last night on the third floor. Great company, great conversation, great fun old black and white movies (Dracula's Daughter, 1936, & Bucket of Blood, 1959), great bat wing-looking black bed sheets and black curtains in every room, a perfect cozy Gothic wine and cheese evening with friends set to candlelight in a haunted hotel. Many more to come. This is a photo of just a few of the mountains of cheese we had.
Mark the Magician Swindler as Rasputin the Mad Monk in the Grand Midway Hotel (wearing Crystal Hoffman's fake beard)  floating in a sea of Phobos cheese…
======================================================================
(Third floor hall in the Grand Midway photo by Jonathan Timko)
=============================================================
THE HOTEL'S CROWN CHAKRA CEILING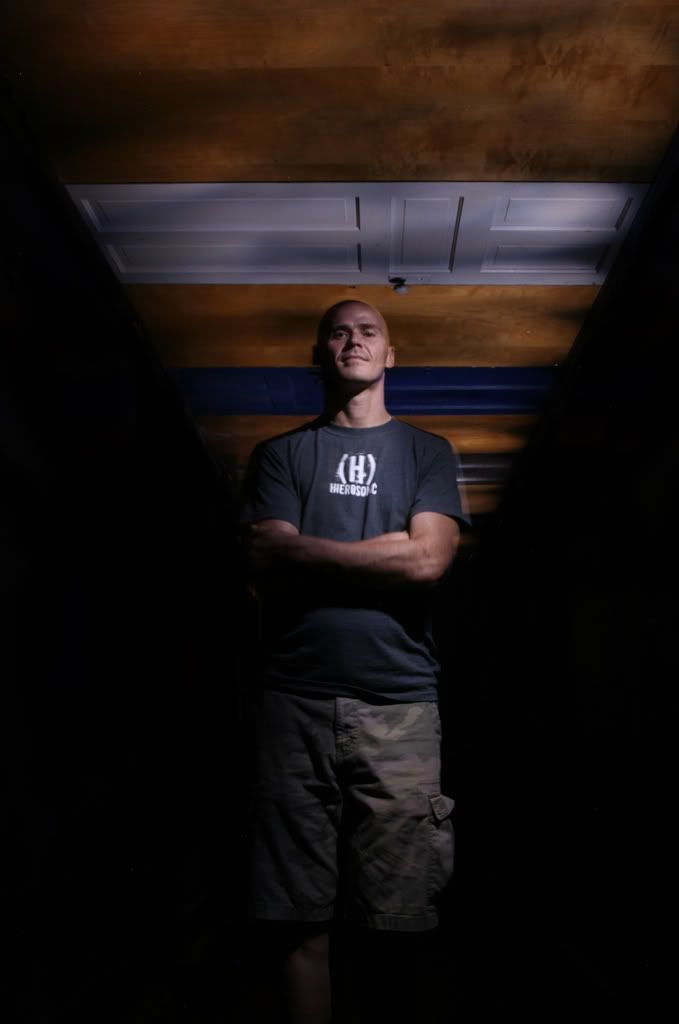 When the third floor ceiling was the one eyesore that still needed to be tackled within the hotel, I was waiting for some golden cap to present itself in the creative process.  George Sporay, a visiting chef and carpenter, moved into the building. We put him in Adam's old room as there is lots of light and the Saint Michael painting is on the door. Within hours of moving in we discussed the third floor ceiling as a potential project for the near future. Just as George was about to go out and price some potential materials to coat the ceiling. I just happened to run into local businessman Bob Burnworth of Bob Burnworth Auto. Bob actually used to live in the Midway Hotel back when they had the Kaleidoscope bar downstairs, and coincidentally he lived on the third floor in Adam/George/Damien's old room as well. Anyway, out of nowhere, Bob asked me, "I have some 100 doors I need to get rid of right away. They are solid wood. Do you know anyone that could use them? I have to get rid of them immediately. If you know someone who could use them I'll sell them for a dollar a piece and even lend you the truck to deliver them."  Well, that was about within one hour of when George and I committed to beginning some sort of ceiling project. I couldn't believe the uncanny timing. It has not even been 24 hours yet from when George and I discussed the ceiling and already the wooden doors are piled up downstairs to create this new artistic surface. George just came home and got to check them out. It is really going to have a unique look…they are going to line the entire top floor of the hotel ceiling. I got the idea to carpet a ceiling with doors originally from Scott Penrod who did a room in his bar up the street that way.  The symbolism here for capping our entire hotel ceiling being a message of "doors to the sky".   To spell it out more succinctly, the symbolism of this ceiling project is to bring absolute attention and discussion to the idea of the Crown Chakra above us, Chakras being the seven dynamic energy centers of consciousness that line our body's spinal cord, translated as "wheels" in Sanskrit. The seventh chakra being the "crown" chakra, where the highest state of consciousness is embodied, our unlimited mind and spirit, and connection with divinity, which I would perpetuate in a giant artwork like the entire ceiling of the hotel.   Sahasrara, according to Hindu tradition, is the seventh primary chakra. In the oriental literature it is known as "the supreme center of contact with God".  Occultists note a similar archetypal idea with Kether in the Kabbalistic tree of life.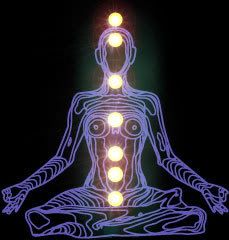 "Write the things which thou hast seen, and the things which are, and the things which shall be hereafter; the mystery of the seven stars."   -Revelations 1: 19-20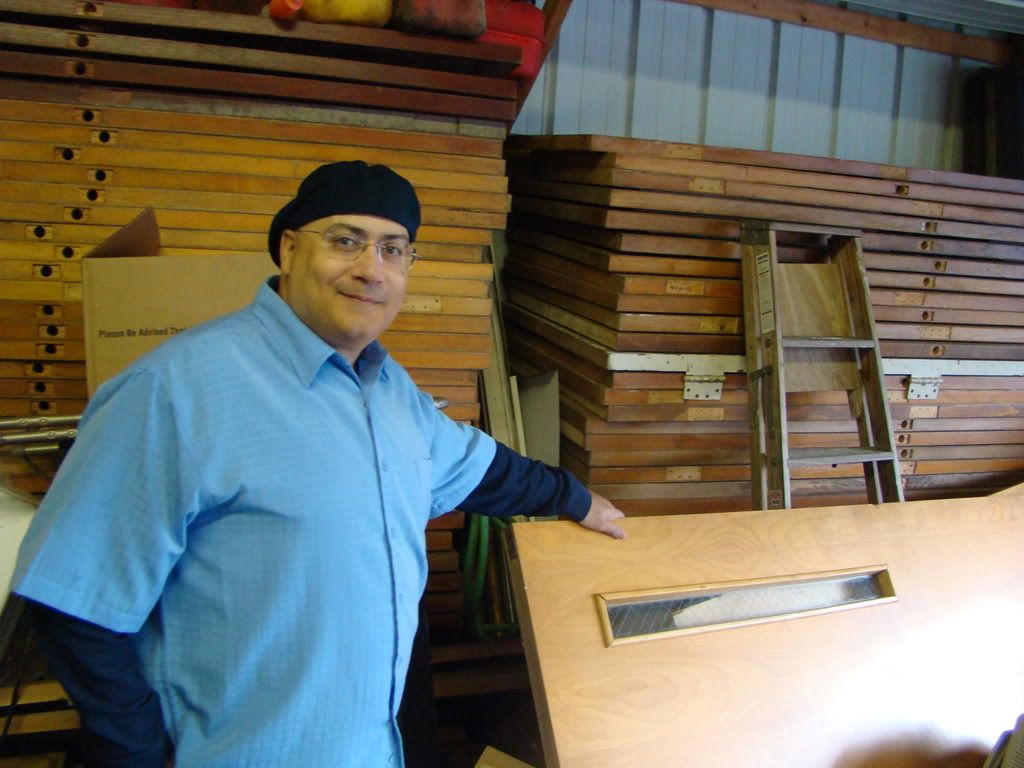 James "the Godfather" Elia inspects the doors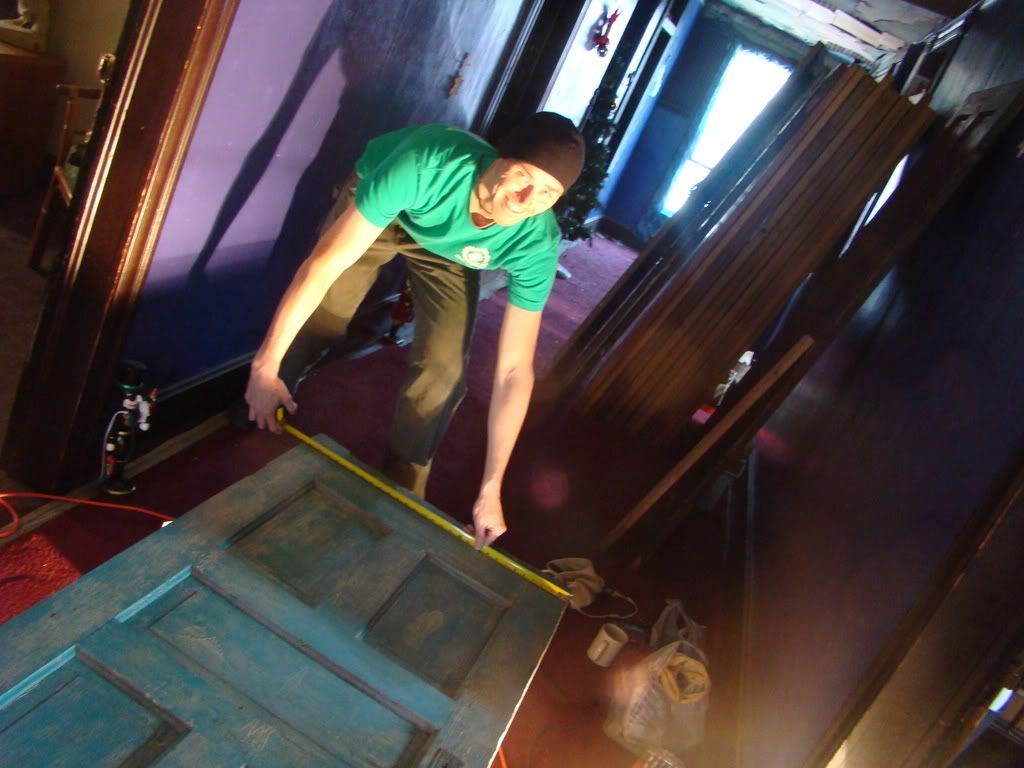 Here's George beginning cutting the door process.  This was a wonderful Saturday…fresh coffee, new energy, visits from friends.  Interesting too that we mention Kabballah and the Tree of Life in relation to the symbolism entrenching itself within these doors as we hang them (as I will mention in a minute).  Anyway, so today is the day we put the doors up! George is cutting them right now as I type this and sliding them into place. It is a miracle how smoothly and quickly this is happening. Even the old drop ceiling slats have created a mini-shelf along the edges to hold the doors perfectly in place. I asked George for a quote regarding what he thought of this ceiling as he was going into it. He said he didn't have anything yet to say but that he thought he would have a quote before the day is over. As soon as he slid the first door into place, he smiled like he'd just eaten the finest steak, and said, "Oh, I think this is going to look cool."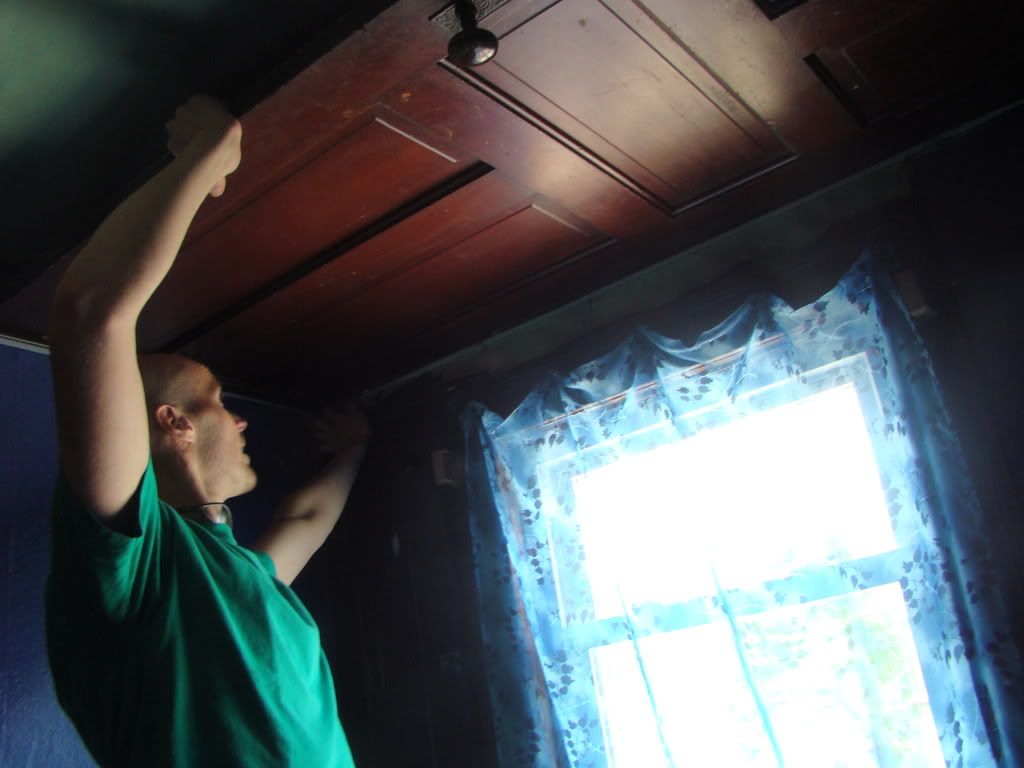 The pattern is going old hotel door, new door, new door, old hotel door, new door, new door, old hotel door, etc. He even kept the old shiny round door knobs hanging down from above.  I asked Bob Burnworth where all these new doors came from, as the stack he had was huge. Bob said they came from a government building in Washington, D.C. He got a deal on them for removing all kinds of furniture, doors, and appliances from the building. He brought all the doors here to Windber, where they sat for almost a decade, and then he finally sold them to me.  So, back to strange aligning coincidences, the Tree of Life, Kabballah and Jewish mysticism. One of these new doors from D.C. still had a sign on it. It reads, "B'nai B'rith Relocation War Room". Another has a computer on it and reads, "B'nai B'rith Management Information Systems".
The B'nai B'rith Organization, as stated by their web page:  "In 1843, Henry Jones and 11 other German-Jewish immigrants gathered in Sinsheimer's Café (right) on New York's Lower East Side to confront what Isaac Rosenbourg, one of B'nai B'rith's founders, called "the deplorable condition of Jews in this, our newly adopted country."  Thus, B'nai B'rith (children of the covenant) was born.  The original members' first concrete action was creating an insurance policy that awarded members' widows $30 toward funeral expenses, and a stipend of one dollar a week for the rest of their lives. Each child would also receive a stipend and, for male children, assurance he would be taught a trade.  It is from this basis of humanitarian aid and service that a system of fraternal lodges and chapters grew in the United States and, eventually, around the world.  B'nai B'rith International has not moved far from its roots, but rather allowed these roots to grow in more than 50 countries worldwide.  No other Jewish organization can point to a longer, more all-encompassing history of service to Jews and all people around the world."
=========================================================================
MISC SHOTS OF THE THIRD FLOOR HALL
(self portrait)
(Anubis doll gift from Margaret Bashaar)
(Backstage with dancer Penny De La Poison)
(random photo discovered on the web of third floor)
Margaret Bashaar's fancy legs.  She writes, " Missed my train to NYC like a champ, so me and my fancy lady train riding outfit are chilling at the Grand Midway while I decide what to do with this weekend…"